Unusual dish - pollock baked in the oven
Truly popular breadwinner
To the Pollock in our country there was an undeservedly scornful attitude. In the old days, he and hake were the only kinds of fish available to the common people. Pollock and now is cheap. But we should not forget that it is still useful and dietary. This fish supports the functions of the liver, regulates the composition of sugar in the blood, has a beneficial effect on bones, teeth, and helps keep eyesight sharp. There is only one "but" in pollack, the insufficient density of its meat. Because of this, the fish is not recommended to cook, and when frying, the carcass often crawls on the pan. "Baked pollock" - a recipehelping to avoid these difficulties. Fish can be cooked in the oven, convection oven, microwave, on the roaster. You can wrap it in foil, and you can bake it without it, just covering it with a "blanket" of vegetables or watering it with sauce. Consider some ways to roast pollock.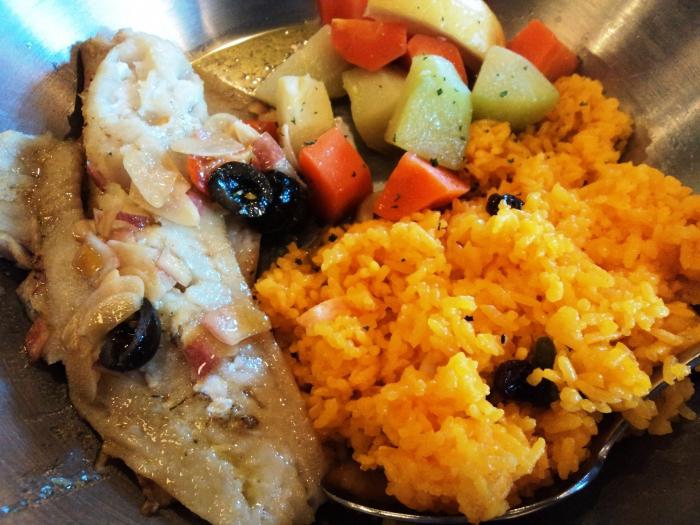 Pollock, baked in the oven with cheese and vegetables
If you are dealing with a fish carcass, gut and clean it, remove the fins. If you bought frozen fillet, the main thing is to bring it to room temperature correctly. Do not rush and try to defrost the product, putting it on a special mode in the microwave or putting in hot water. The fish should thaw gradually. Portion pieces need to be seasoned, first of all, with salt and pepper. Then cook the vegetables.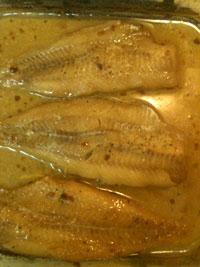 Cut the carrot into thin circles, and the onion into half rings. Baking grease with butter, lay out the pieces of pollock, cover with a layer of carrots and a layer of onions. In a separate bowl, prepare the sauce: dilute 2 spoons of sour cream with a small amount of milk, salt. Pour fish sauce with vegetables and cover with a layer of grated cheese. Baking tray put in a hot oven and bake the pollock for half an hour at a temperature of 180 C.
Pollock baked under cheese
Rub the prepared carcass with salt and seasonings, lay out in the form. Of course, it must first be lubricated with sunflower oil. Chop onions and carrots, add mayonnaise and mix. We spread this mixture on fish, and sprinkle generously with grated hard cheese (not less than 200 g) on ​​top.Baking the same way - half an hour at 180 C.
Pollock baked with potatoes
Cut fish fillets into pieces, salt, pepper and fold into a form. On top of it lay out the onion half rings. 4-5 potatoes clean, cut into thin blocks and place over the onion. Sour cream mixed with mayonnaise in equal shares and grease with this sauce potatoes. Cover the form with a sheet of foil and put it in the oven for about an hour at 180 C. Check the readiness of the dish for potatoes.
Pollock baked in foil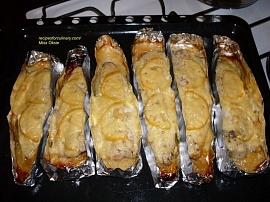 Cut onion into half rings. Preparing the sauce: mix a spoon of soy sauce, 2 large spoons of mayonnaise and ketchup, half a spoon of coriander, a spoon of basil, dill and paprika. All this is thoroughly mixed. Prepare two big pollock carcasses, dry them with a kitchen towel, put them on foil. Pour sauce on both sides, sprinkle with onion on top. We wrap the aluminum sheet so that it can be easily opened when it is hot. We spread on a baking sheet. In the oven, the dish should be about twenty minutes at about two hundred degrees. After this time, unfold the foil and sprinkle baked pollockgrated cheese.Now, seven or ten minutes in the oven - and you're done!

Related news
Unusual dish - pollock baked in the oven image, picture, imagery