Swiss watch "Frederique Constant" (Frederique Constant): review, features, reviews
A watch from a manufacturer like Frederick Constant is not just a mechanism for tracking time. The company, or rather model developers, puts its heart into these devices, thanks to which they manage to create beautiful, spectacular and efficient mechanisms.
history of the company
The foundation of this company occurred in 1988, and those who gave it life were Aletta Bax and Peter Stas. Interestingly, the name of the company Frederique Constant is the first names of the two ancestors of Aletta and Peter. From the time the company was founded until 1991, only 6 different models of watches were produced, which were presented by Aletta and Peter at the watch fair. From that moment on, things went uphill, since Japanese buyers became interested in accessories at the fair and made their first order for 350 copies at once.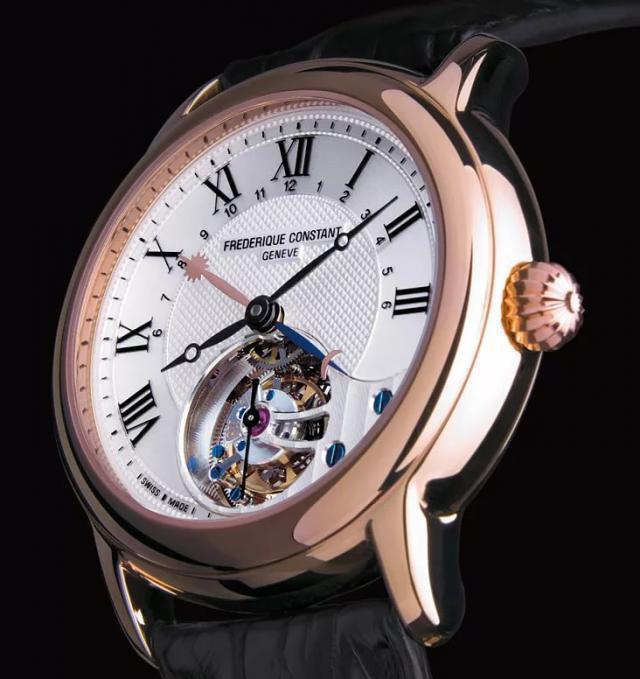 The next collection of watches of this brand was released next year.It was characterized by the fact that they were equipped with Swiss mechanisms of the highest quality, and the devices themselves were assembled by professionals from Geneva. If we talk about the appearance of the new watch, it was developed directly by Frederique Constant, as well as by several independent designers. Together, they managed to create real masterpieces in the field of similar accessories.
Company development
Further development of the company was progressing fairly well. However, a really big step was made in 2008. That year the premiere of the first manufactory tourbillon from "Frederick Constant" took place. However, this is not the only detail that attracted potential buyers. Silicon was used in the balance wheel system, which is a wear-resistant material and does not require lubrication. This change greatly increased the service life of the mechanical part of the watch.
It is worth saying that the release of our own tourbillon is like a signal that says that the manufacturer has moved to a qualitatively new level, and its potential in this area is huge. The second manufactory caliber, which was called Maxim, did not take long to wait and was released by the company as early as next year.It is also worth noting that it was on the basis of these watches that the cheapest manufactory movements from FC were created and marketed. The name of this device is Classic Manufacture. The price of "Frederick Constant" of this model does not exceed 2,000 euros.
Art Deco Models
People who have several different models from this company, or just attentive experts noticed that most devices have the same technical solution. Art Deco was chosen as a general style. However, this was done for a reason. Back in 1903, when the ancestors of Aletta and Peter created their first watches, they were made exactly in this style. And those 6 models that were released in 1988 were also in this design direction.
Frequent repetition of the same style brought the brand recognition and a certain audience of fans. After that, the design was not violated, and most models are made in the Art Deco.
However, there was another factor that united the products of this company - this is the technology of Heart Beat, which translates as "heartbeat". The highlight was that this technology allowed its owner to observe how the balance works.For this, the watch had a partially transparent dial.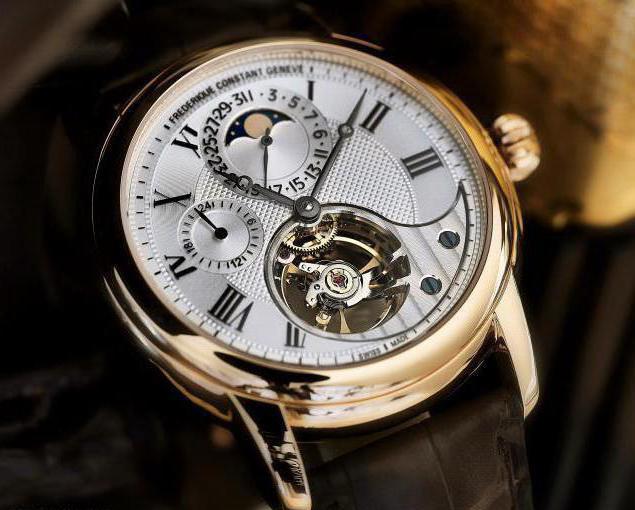 Heartbeat
The fact that the "Frederick Constant" watches have their own "heartbeats" is known to many. Some believe that it is not difficult to make a model of such a plan, and therefore it should not be considered such a high achievement. However, such people are fundamentally wrong, because in order to create a model with an open balance, like that of FC, you need to correctly design and assemble the mechanism in a special way. Without this, it will not turn out to be as spectacular as possible and fully present it, without obscuring any extraneous gears or plates.
"Frederick Constant" allows you to admire how at high speed a spring is spinning, in the center of which there is a ruby, really resembling a heart. The spectacle is quite fascinating, and to repeat such a performance is very, very problematic.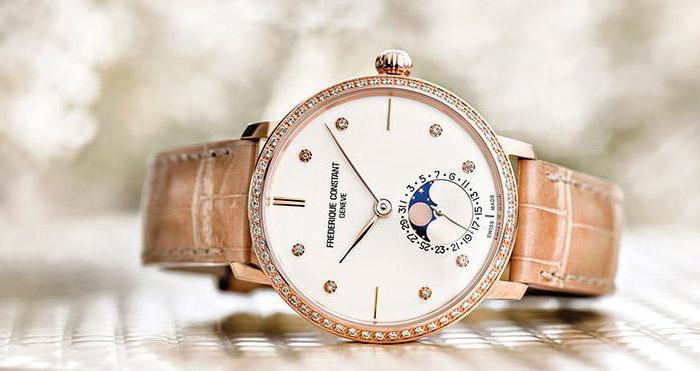 Men's watch "Frederick Constant"
A Swiss watch is like a German car: stylish, expensive, attractive. The company has released quite a lot of various models of watches for men. Since this detail will always be in a prominent place and will always be discussed,then the clock must correspond to the position of man in society. The company has released men's classic watches with three types of movements:
Quartz, which are accurate, reliable. In addition, you can not worry that they will soon stop, they will work for a very long time.
Mechanical, which are also characterized by precision and have automatic winding, long service life.
Chronograph.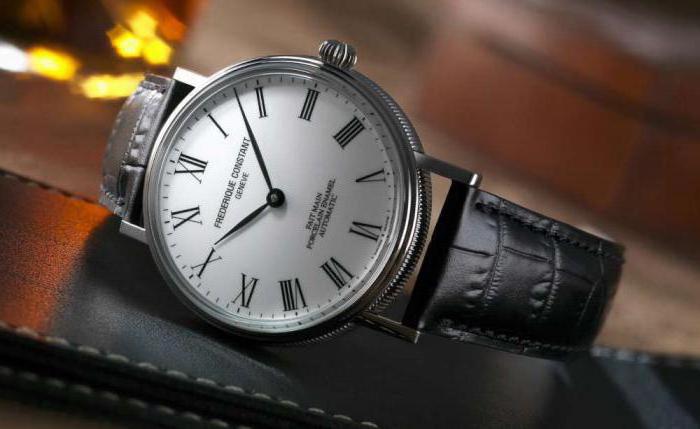 The case for men's watches "Frederick Constant" is gold, stainless steel, titanium or stainless steel + PVD. It is also important to note that all watches have different types of water protection:
3ATM.

5ATM.

6ATM.

10ATM.
The strap on the watch "Frederick Constant" can be made of leather, stainless steel, fabric. All this is complemented by high-quality glass, which can be created from sapphire or from sapphire with anti-reflective coating.
Cost of hours
If we talk about the collection of classic watches from "Frederick Constant", then they are strongly marked by the abundance of various colors: black, brown, gray, silver, beige and many others. The cost will depend on the specific country of sale. For example, in Ukraine, the average cost of hours from this company is from UAH 18,750 to UAH 12,550. Naturally, a more accurate price will depend on the selected model.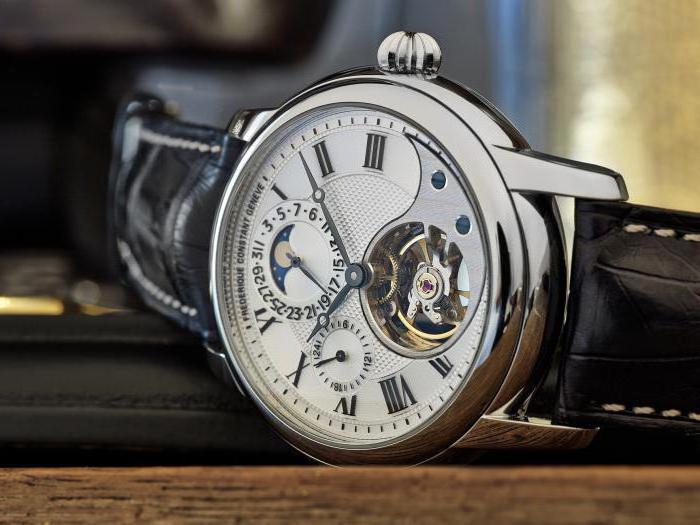 If we talk about products and cost in general, then a mechanical watch made of stainless steel will cost less than 750 EUR. Such prices can not but interest European and other buyers. In addition to the watches, Frederic Constant offers to purchase certified chronometers, which will cost less than 1000 EUR. The most expensive pleasure from the entire collection are models of gold, with manual winding. The cost of such copies is about 3000 EUR.
Limited watch models
Like many self-respecting companies that are known around the world, Frederick Constant has several model lines of watches that are released in very limited editions, that is, they were made and went on sale very little.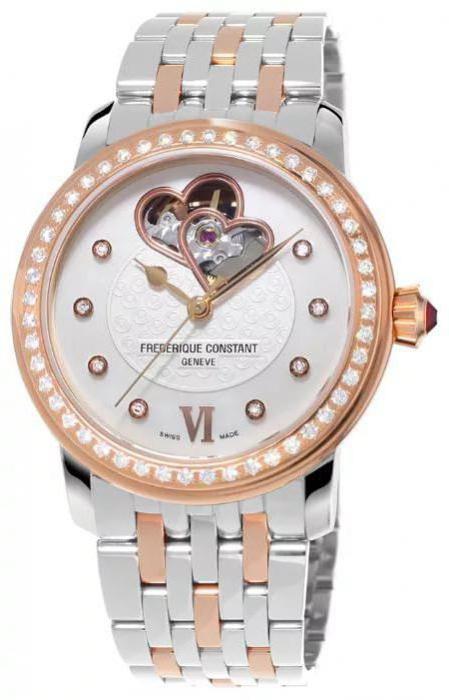 Frederique Constant F.Chopin 2010
The release of these models was dedicated to the significant date - 200 years since the birth of the famous composer Frederic Chopin. Interestingly, the case for these models is a miniature copy of Chopin's piano, and the number of hours in the game was only 1810 pieces.
Pavee shuqi
This collection of women's watches from "Frederick Constant." It should be said that the cost is very, very high, as the cases themselves are made of pink gold, and besides, they are encrusted with 145 diamonds.The diameter of this work of art is 34 mm.
Tribute to austin-healey
The case diameter of this model is 43 mm and is also plated with gold. Watches are extremely resistant to water. They are waterproof to a depth of 60 meters. For this model line of watches, a special case was developed, as well as a miniature model of the Austin-Healey machine attached to them. The number of copies is 1888 pieces.
Inspiration by sea and land
In order to create a masterpiece from a creative point of view, it is necessary to have an object of inspiration. One of them, oddly enough, became expensive yachts of the 20s. At that time, the presence of such a vessel indicated that a person belonged to the highest circles of society. The collection that was developed under the influence of these yachts is called Runabout. The circulation of this model range is 1888 copies. These watches are sold in a special gift box, in which there is also a miniature yacht.
The inspiration for creating another collection called Vintage Rally Healey was the Austin-Healey NOJ 393 car. This vehicle took part in all Le Mans races in the 50s and won all starts. The circulation of this collection is the same as that of the previous one.In addition, they are also sold in gift packaging, but instead of a miniature model of the yacht attached miniature model of the car. If you look at the strap, you can see that there is a slight similarity between it and the braid on the steering wheel of the car.
Panamericana series. How to distinguish the original?
Another limited series of watches was released, which was called La Carrera Panamericana. Watch production was timed to the holding of the 24 race of the same name. The case of this watch was made of stainless steel of the highest quality. The dial stood out for its silver color and also had overhead hour markers, which were made of stainless steel with gold leaf. The back cover, as expected, is transparent, and through it you can contemplate how the mechanism works. The dial is protected by durable sapphire crystal. The water resistance of these specimens reaches 100 meters. Circulation issued watches limited to 1880 copies.
When purchasing such expensive accessories, you must make sure that the product is packed in a special case, has a warranty card, as well as a certificate with the date of sale, which is stamped.If something from this list is missing, then, most likely, there is a fake in front of the buyer.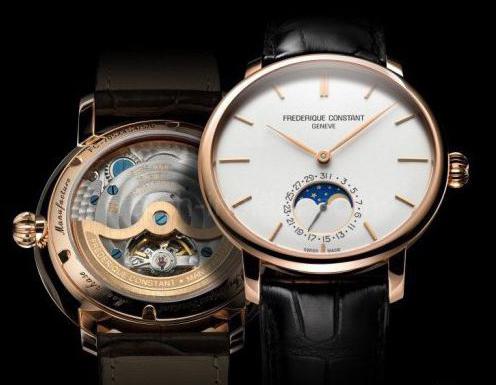 Watch Repair "Frederick Constant"
Buying an expensive item, I want to believe that it will always serve, but everyone understands that it is not. Any thing will ever become worthless and will have to be repaired. The clockwork itself is a very delicate and fragile design that is very difficult to repair manually. And if we talk about the Swiss watches "Frederick Constant", then they completely require the stunning work of a watch repairman.
It is recommended to treat them with great care and with all the rules, especially if they are original. In addition, even the smallest repair or such a thing as a replacement battery should be made only by professionals in their field. All this is based on the fact that the clock mechanism itself and its structure is very fragile, and it is not difficult to damage it.
Product Reviews
Like any other product, watches from Frederique Constant have spread around the world, and people share their opinions with each other. Of course, there are both positive and negative reviews. Some say that at present this brand has lost its popularity, and the design is still outdated.In addition, the cost of production is too high even for those who earn good money.
Other people, in turn, praise the highest quality mechanisms and Swiss reliability. There were negative reviews about the watch strap. Some buyers complained that two months after the purchase, he completely peeled off and worn out. However, at the same time, people say that the quality of the straps is good, and their cost is quite democratic.
The difference in reviews is too categorical to unequivocally say whether the Swiss watches tasted like a Russian buyer or not. It is possible that people who complained about the wear of the same strap too quickly could have acquired a fake. In this case, it becomes clear why a quite high-quality product was so quickly worn out.
Related news
Swiss watches Frederik Constant (Frederique Constant): review, features, reviews image, picture, imagery