Potato Dishes: Recipes with photos
Potatoes - one of the most affordable and frequently used products. Soups are not cooked without it, with this vegetable there are a lot of second courses, they are all varied, tasty and satisfying. Today we will share simple recipes of potato dishes, which are prepared quickly and will be within the power of all housewives. In the publication there are ideas for the holiday table, and for the usual family dinner.
Complicated potato pancakes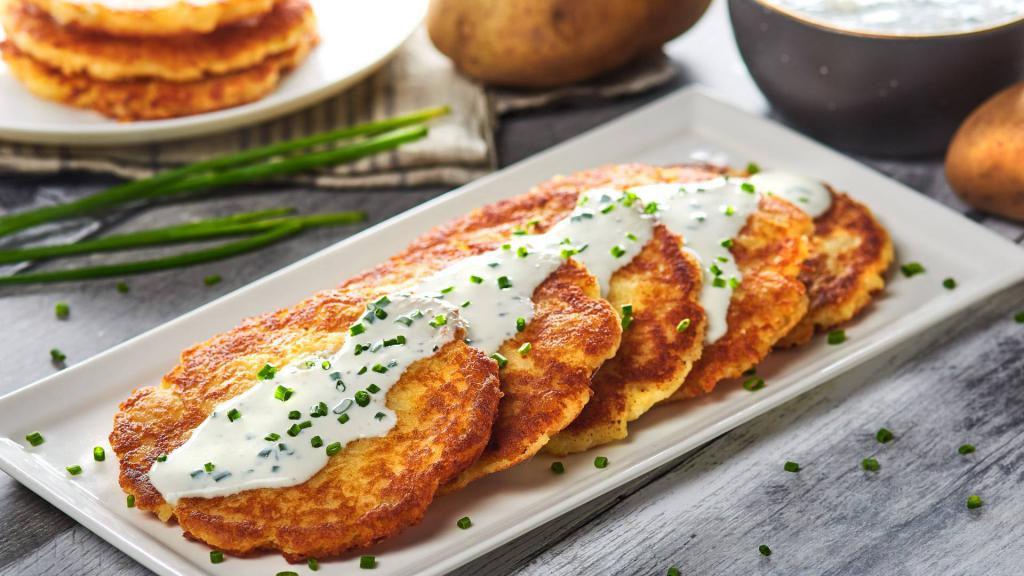 This dish is known to everyone and everyone, but today we decided to publish a recipe for the famous potato dish, which is not familiar to everyone. It will not be just an option for a snack with tea, but a full-fledged lunch or dinner.
Of the products required:
a kilo of potatoes;
a pound of chicken fillet;
300 grams of hard cheese;
several ripe tomatoes;
a glass of flour;
two chicken eggs;
salt and pepper;
sunflower oil in the pan.
Cooking potato pancakes
The first thing you need to clean the potatoes and wash, grate on a coarse grater, squeeze and drain excess liquid.Next, mix it with eggs and flour, a little salt.
Heat the sunflower oil in the pan, put two tablespoons of dough on one pancake, fry on both sides until cooked.
Chicken fillet should be cut into plates, slightly beat off, salt and pepper, fry on both sides.
Grease a baking sheet with butter or lay out parchment paper. Put one dranik on the bottom, on top - a plate of cheese, then a chicken fillet, again a plate of cheese, top with a pancake and again put a plate of cheese. Bake in the oven for 10-15 minutes, until the cheese is completely melted.
It was not the easiest dish with potatoes, but at least it took a little time to prepare it, and the result will impress even the pickiest eater. Serve these challenging pancakes with ripe tomatoes!
Potato Cheese Balls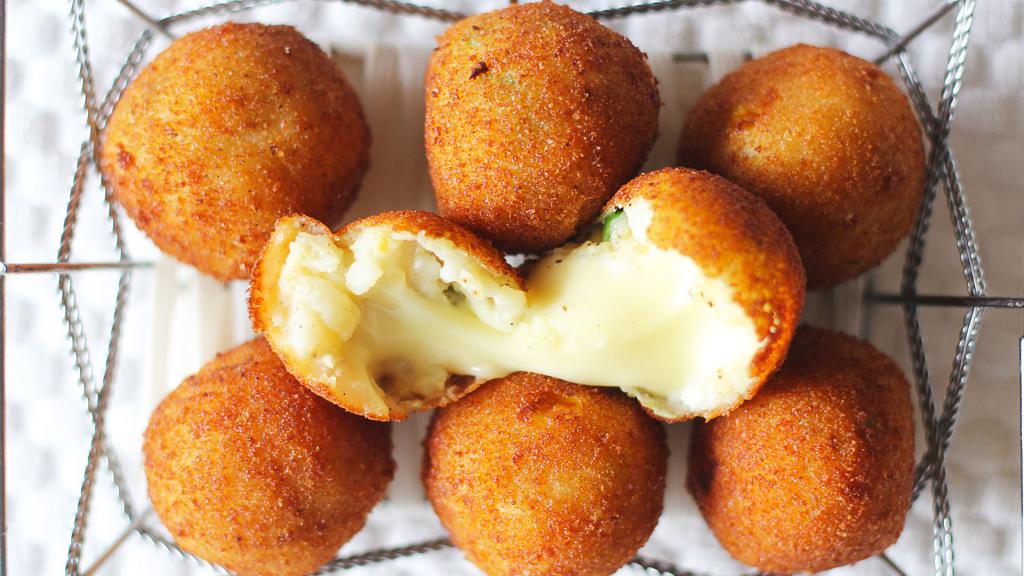 Delicious dishes from potatoes cooked unconventionally, you can easily put on the holiday table. We propose to consider an option that will fit as a snack when the guests are already full.
We will need:
a pound of potatoes;
100 grams of smoked sausage;
100 grams of hard cheese;
dill;
two eggs;
breadcrumbs;
oil for deep fat
Cooking Potato Cheese Balls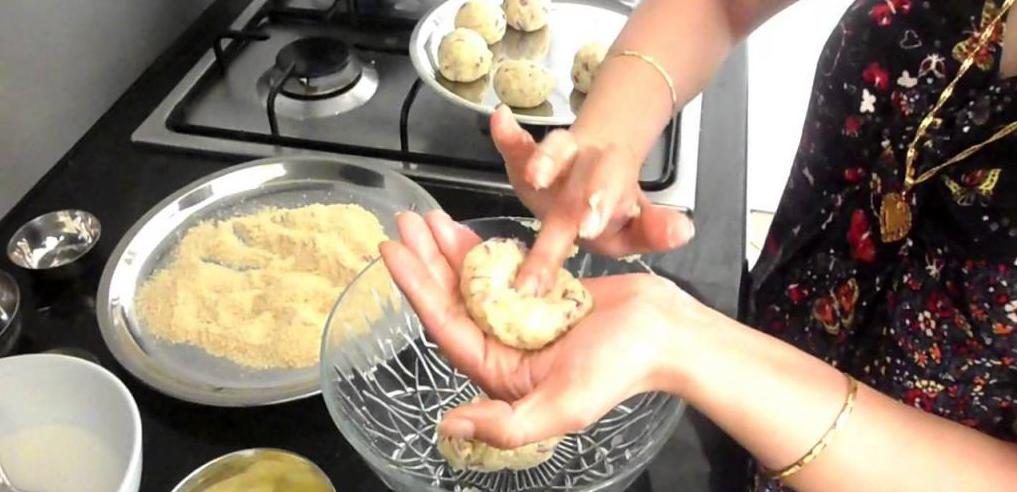 Wash and peel the potatoes, boil in salted water until done. Drain completely all the water and mash into a puree. Let the potatoes cool completely, then add one raw egg and mix.
Sausage and dill need to chop finely, add it to the puree and mix.
Now we will form the balls. For convenience, after each wet hands with water so that the mash does not stick.
Take a small amount of mashed potatoes (half of the palm), make a flat cake, put a cube of cheese in it, roll the ball. Get the cheese inside, and the potato-sausage mixture on top. Dip each ball in the breading, then in the beaten raw egg, again in the breadcrumbs. Fry the balls in the hot oil in a deep fryer. Put ready-made on a paper towel to excess oil gone.
This dish with potatoes is served both warm and cold. The first option is preferable, as the cheese inside will be soft.
Zrazy with meat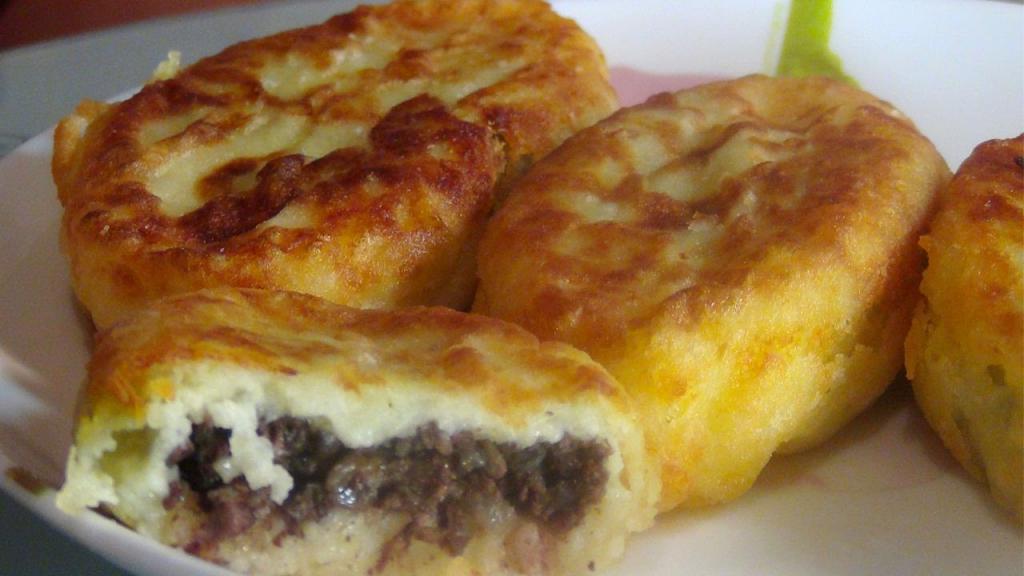 The potato recipe called "Potato zrazy with meat" is similar to the previous one, but the result is completely different.The products here are not the ones that were in the past recipe, only cooking is the same. Zrazy is a very tasty and satisfying dish, it will take about two hours to cook, but the result is worth the time spent. The very same cooking is very simple!
Required of the products:
a kilo of potatoes;
A pound of any meat, but not chicken (use better pork, beef, or a mixed version);
large onion;
salt and pepper;
flour for breading;
sunflower oil;
two chicken eggs.
How to cook zrazy
Dishes from potatoes are always perceived "with a bang," is no exception and zrazy. Many make it so that the potatoes are inside and the meat is on top, stuffed burgers are obtained. We will do otherwise, put the meat inside the potatoes. So it will be tastier, because roasted mashed potatoes - just you will lick your fingers!
Peel the potatoes and boil in salted water until tender. As in the previous case, the water is drained completely, otherwise the mashed potatoes will fall apart when frying. After cooling, mix the mashed potatoes with chicken eggs, if not added, the mashed potatoes will also collapse when frying.
The meat needs to be scrolled along with the onions through the meat grinder.Next, lay out the stuffing in the pan, fry until half cooked, add salt and pepper, bring to readiness.
Sculpt zrazy:
sprinkle the board or any other surface with flour, place a plate with water next to it, where you will wet your hands before modeling each of the zraz;
Put two tablespoons of mashed potatoes on the board, sprinkled with flour, make a flat cake, flattening it with your fingers;
place a tablespoon of minced meat in the center of the potato pancake;
blind pie, roll in flour;
fry each spill on both sides in a pan like pies;
when ready, put zrazy first on a paper towel to remove excess oil and only then on a plate.
Serve hot or warm zrazy with sour cream, cream sauce. Ketchup and hot sauces are not suitable.
Stuffed Potatoes With Broth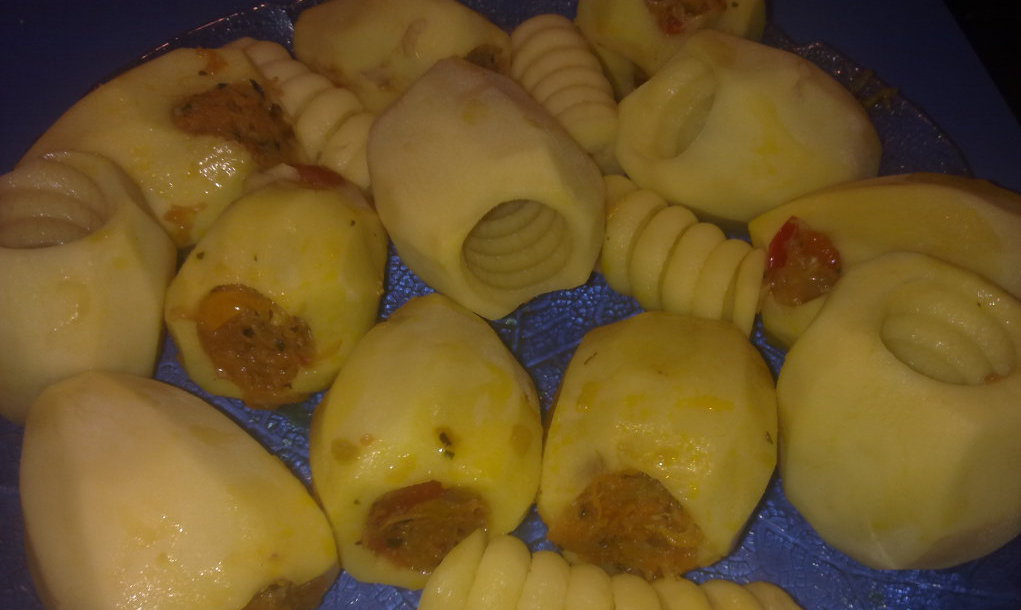 The main thing that we need for the preparation of this potato dish is a special device for making through holes in vegetables. The tool is sold in the dishes.
From the products we take:
several large potatoes - by the number of servings;
a pound of meat;
big carrot;
two onions;
spring onions and dill;
spoonful of thick tomato paste;
sunflower oil in the pan;
salt.
If desired, you can use any seasoning, a mixture of dried vegetables and herbs are ideal, but in this case, salt is no longer necessary, since this type of seasoning already has it in the composition.
Potato stuffing
This is a very simple dish of potatoes, it takes even less time than when cooking soup.
Peel all vegetables, rinse well under running water. Carrots should be cut into rounds or straws, one onion in half rings or quarter timbers of rings. Fry the onions and carrots in sunflower oil, when the golden hue appears, add the tomato paste. Continue frying until the red paste turns orange.
Drill central holes along each potato from top to bottom. Potato curls will remain on the instrument, remove them carefully, they will also go into the dish.
Twist the meat with the second onion, salt and pepper slightly. Spoon each potato with this stuffing.
Place the potatoes in a saucepan, cover with water so that the top is covered with liquid three centimeters higher, add seasoning or salt, put on the fire.As soon as the potatoes boil, add a broil of carrots, onions and tomatoes, mix. Five minutes before being ready, place the remaining potato curls in the pan.
Serve the broth in a deep plate, add mayonnaise or sour cream, and sprinkle with chopped dill and green onions.
Next, we propose to consider the recipes of potato dishes in the oven, they take the least effort of the hostess.
Juicy Chicken with Potatoes
This dish is impossible not to love. It is very fragrant, tender and tasty, even chicken breast turns out juicy. The advantage of such a dish is that it is prepared without adding oil - in its own juice.
For cooking you will need:
chicken or chicken legs (you can just drumstick or thigh);
a pound of potatoes;
a glass of sour cream or yogurt;
half a lemon (it is possible without it);
onions - at will;
salt and pepper or seasoning from a mixture of dried herbs and vegetables.
You will also need a roasting sleeve, which you need to cut so that you get a cloth that will cover the baking sheet.
Cooking Chicken Potatoes
If the chicken is whole, then divide it into 11 parts: two hips, two shins, two wings, a breast without bones into 4 parts, the back. All parts, except the back, will be used for cooking.The back can be wrapped in a bag and left to make light soup broth.
Fold the chicken pieces in a deep plate, put sour cream in it, squeeze out lemon juice, salt and pepper, and better add the seasoning of dried vegetables and herbs, which is sold in every grocery store. Mix everything well and put in the refrigerator for a while, while working with potatoes.
Peel the potatoes, cut them into rounds, rinse, put in two layers in a deep pan, if onions are used, then fold the rounds into a third layer on top. Spread the pieces of chicken with sour marinade over the top evenly, cover with the leaf that comes out of the sleeve and put in the oven for forty minutes at 180 degrees.
Even a photo of a dish made of potatoes and chicken causes an incredible appetite, it is a pity that its aroma cannot be conveyed to readers!
Meat "Merchant" or "Royally"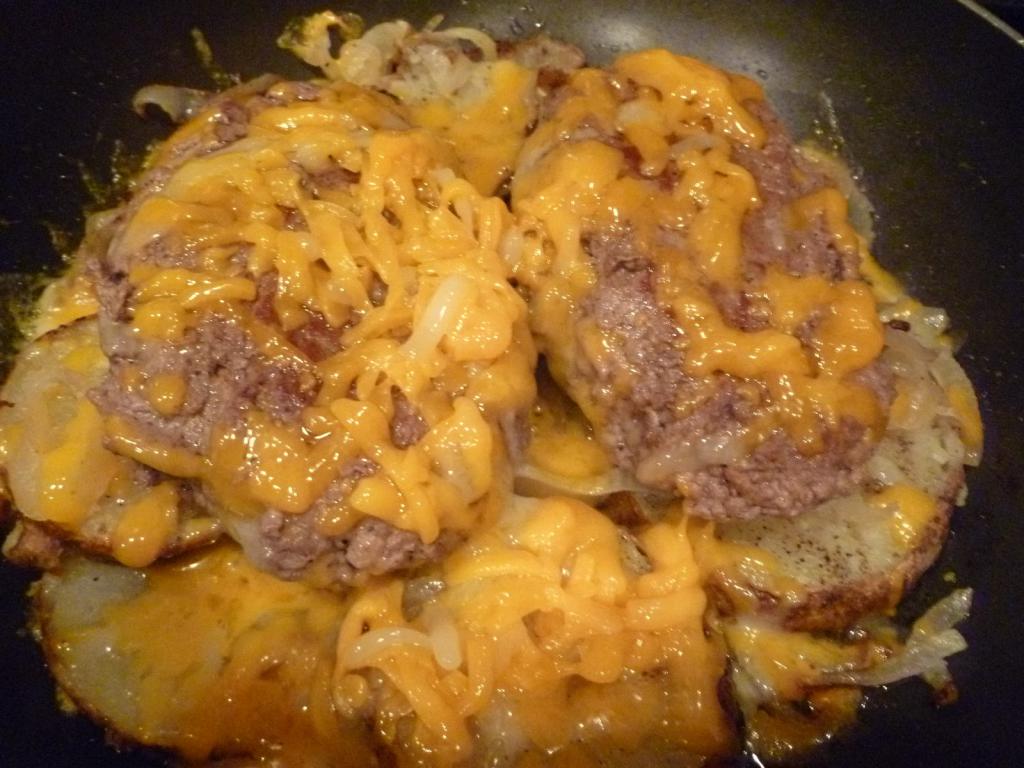 The most popular dish, which has how many names, so many cooking recipes. Ingredients will be found in each refrigerator, it is:
kilogram of meat without fat fat;
a pound of potatoes;
three tomatoes;
one bell pepper;
200 grams of hard cheese (possible and more);
onion head;
mayonnaise (you can without it, but it will be juicier);
seasonings, salt.
Cooking Meat with Potatoes
The tenderloin must be divided into uniform large, but thin pieces, each salt and pepper, slightly repelled.
Cut the potatoes after cleaning with rounds, put one layer in a deep pan. Lubricate with a thin layer of mayonnaise, lay out a layer of meat, on top of pieces of bell pepper. The next layer is again potatoes, we grease with mayonnaise, we spread the roundels of tomatoes, we close them with meat. If you like more salty foods, then each potato layer can be slightly salted.
Remove the pan in the oven, preheated to 180 degrees. As soon as the juice appears, we increase the temperature to 200 degrees. Fifteen minutes before cooking, sprinkle abundantly with grated cheese on top of the dish.
Here you can make interesting potato dishes. Recipes with photos in this article will help to diversify the dining table!
Related news
Potato Dishes: Recipes with photos image, picture, imagery