Original and beautiful wedding bouquet of tulips: interesting ideas and recommendations
A wedding is a special day on which the bride wants to look perfect. Bouquet - an essential attribute of such an event. It can be bright or tender, small or large. A wedding bouquet of tulips is the perfect accessory for the bride.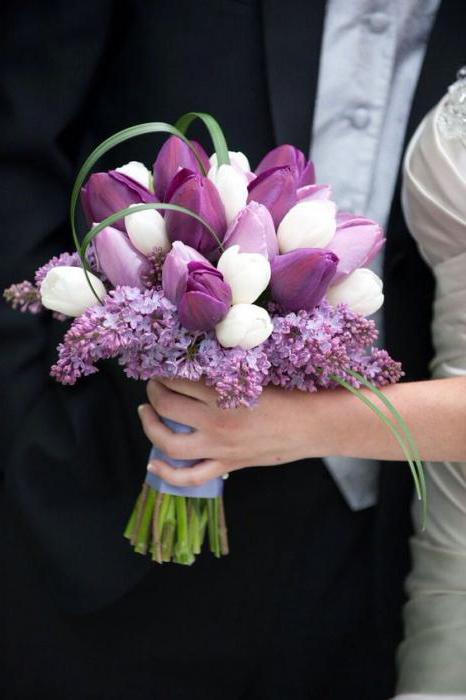 What do flowers say?
Tulips in a wedding bouquet of a bride symbolize love first of all. White flowers are suitable for young girls, as they are considered a symbol of innocence and purity.
Red tulips are a symbol of passion, and pink tulips are a vibrant relationship of a couple in love. Orange shades of flowers speak about loyalty and longevity of marriage. Aristocrats have long chosen purple tulips, which tell about wealth and prosperity.
It is not recommended to use yellow flowers for the bride, as they are a symbol of unrequited love and separation.
Combination in composition
Proper selection of flowers and their shades help florists to create beautiful bouquets. Tulip is a very tender plant, it is suitable for any compositions. Mono-bouquets of white buds will be a nice addition to the wedding dress.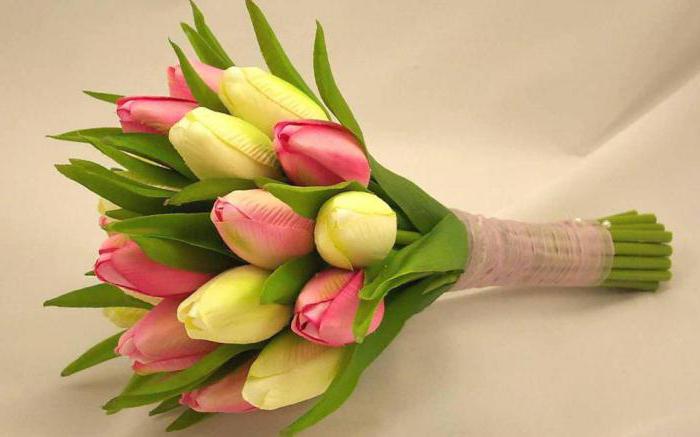 Pink shades of a flower are perfectly combined with roses, emphasizing their tenderness and grace. White tulips look beautiful with irises, chrysanthemums and calla lilies. Together they create a spring mood.
Wedding bridal bouquet of tulips of different colors will be like a rainbow. He ideally emphasizes the gentle image of the girl and adds brightness to it.
Bouquet of tulips and irises
Flower arrangement for the bride is an integral part of her image. A wedding bouquet of tulips is original, cute and elegant.
For the manufacture of the composition will need:
white tulips - 11 pieces;
irises - 10 pieces;
satin ribbon in white.
Florists recommend removing leaves from plants immediately. It helps to prolong the life of cut flowers.
It is important to combine no more than three types of buds in one bouquet. In color, they must complement each other.
Consider how to assemble a wedding bouquet of tulips with your own hands:
Prepare the flowers: remove the foliage, cut the stems with the help of a secateur, making them the same length.
Gather a bouquet in the direct way. So the composition will be easy and will be conveniently located in the hand of a girl.
The stalks are wrapped in satin ribbon. If desired, complement rhinestones or beads.
Florists believe that irises are quite complex flowers. In combination with tulips, they form a beautiful and delicate composition for the bride.
Original wedding bouquet
Every bride wants to feel like a princess. Popular types of wedding bouquets of tulips will help girls create bright images.
The original composition can be made by hand. For this you will need:
portbukettice;
floral sponge;
satin ribbon;
white tulips - 19 pieces;
leaves for registration - 10 pieces.
The process of making a wedding bouquet of tulips will be as follows:
Sponge must be nourished with water.
Wrap a leg of a portbookette with a satin ribbon so that there are no gaps.
Tulips are pruned with pruning shears to the required length.
First, in the lower part of the sponge in a circle insert green leaves, they must form a "skirt" of the bouquet.
Then begin to insert tulips - from the edges to the middle.
You can decorate with beads, rhinestones or lace.
Tulips are beautiful flowers. They differ in tenderness and unique pastel shades. In a wedding bouquet, tulips look great, emphasizing the beauty of the bride.
Bold wedding arrangement
White tulips and red roses are a great combination for brides. The bouquet carries the symbolism of tenderness and love. Flowers you can buy floristics already prepared in the salon or surprise the guests and make the composition yourself.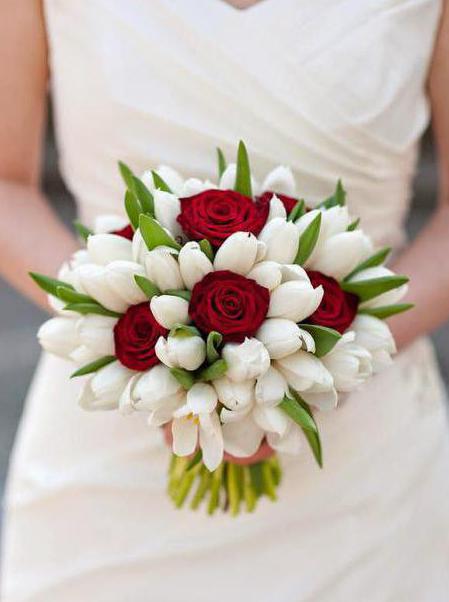 How to make a wedding bouquet of white tulips and red roses:
It is better to choose undisclosed buds. During the day, they will open and not wilt.
Collect the bouquet in a spiral, so that the flowers form a volume circle.
Roses are distributed evenly between tulips.
The stems are tied with red satin ribbon.
In the same style, you can make a boutonniere for the groom and mini-bouquets for bridesmaids.
Tulips and bells
Summer is a great time for wedding ceremonies. Girls always think carefully about their image. In the warm season, wedding bouquets of white tulips and bells are popular with many brides.
Gentle and simple flowers personify love and spirituality of relations.Bells come in the following shades: lilac, cyan, purple.
When creating a composition is very important not to overload the flowers with unnecessary details. In the wedding bouquet of tulips, they are the accent. The bells are placed on the edges, making a smooth edging.
Why tulips?
Florists love to use them in their work. Tulips to create a bridal bouquet have several advantages:
Sufficiently long and dense stems.
A large variety of shades and types. Tulips are terry, smooth, parrot, simple.
They are perfectly combined with other types of flowers and plants.
Tulips look beautiful without additional elements of decor.
The lifespan of a cut flower is 12 hours without water. Buds do not wilt and do not deteriorate even in the cold.
Tulips are suitable for brides of any age and profession.
Versatile and delicate flower will emphasize the beauty of the girl, will give her image of elegance and femininity.
Florist tips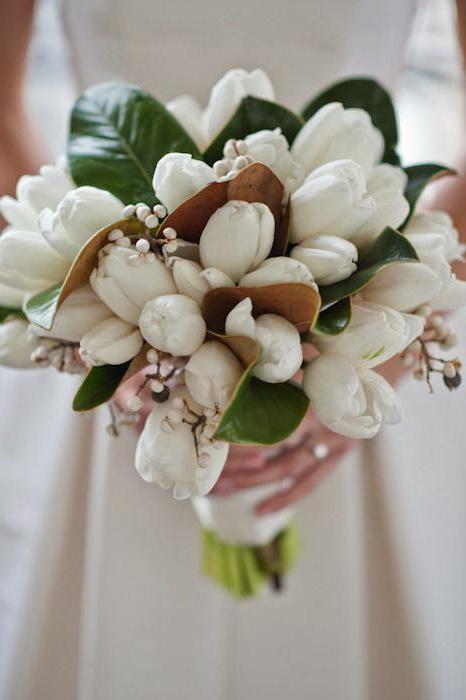 In creating a bouquet for the bride there are several important rules, the implementation of which not only prolongs the life of flowers, but also helps in creating a general concept. Florist tips:
The bouquet should be fairly light and comfortable, especially if the bride throws it to her friends.
Young girls can choose delicate shades of flowers, and more mature - red and burgundy buds.
Mono-bouquets look more gently and naturally.
Tulips are best used for spring and summer weddings.
To extend the life of the bouquet, use the portbooks, equipped with floral sponge.
When choosing a shade, the buds are applied to the wedding dress in order to accurately match the tone.
A bouquet of tulips will become an integral part of the image of a happy bride. He will add to the overall concept an element of tenderness, femininity and extravagance. The spring flower will become a symbol of long love and fidelity of a married couple.
Related news
Original and beautiful wedding bouquet of tulips: interesting ideas and recommendations image, picture, imagery