Male gold bracelet as an original decoration for a loved one
Jewelry history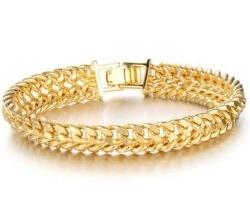 An ordinary bracelet has a rich and ancient history, which originated during the Paleolithic era. At that time, decorations were made from mammoth tusks, which today is of special historical value. Ancient people, as archeologists say, loved to decorate themselves with all sorts of accessories. In the Neolithic era, bracelets were made of stone, and in the Bronze Age they began to use metal for jewelry. It was at that time that the very first gold bracelets began to appear. They were of great value and perfectly suited for holidays and special occasions.In Russia in the XI-XIII centuries, hoops (narrow bracelets) began to gain popularity, and the peasants wore this ornament made of copper, city residents preferred glass, and the noble - gold and silver decorated with blackening.Every woman (regardless of her position) tried to follow fashion trends. Initially, the bracelet was made to adorn both women and men, but then for quite a long time only the fair sex began to give preference to it. But in ancient Rome, men again turned their attention to this ornament, since they believed that it served as a defense against a sudden attack and was a talisman. For them, the bracelet was a symbol of power.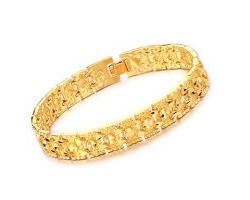 Men's handmade gold bracelet
To date, bracelets again won the hearts of men. The latter experience the true pleasure of wearing this original and elegant jewelry. Of course, the men's gold bracelet is more massive than the women's one. But it should not be overly intrusive and overloaded with unnecessary details. Jewelers unanimously assert that men's jewelry should emphasize men's becoming and character traits. The chain on a man`s hand will perfectly approach the image of a business person. It is for this reason that many of the stronger sex wear silver and gold bracelets with admiration, while not indulging themselves in models that are inlaid with precious stones.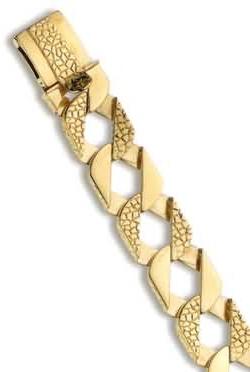 The men's gold bracelet, however, like the women's one, was made by hand from year to year, since it is this kind of work that is most appreciated by society representatives and jewelers. It may seem strange to you, but today not a single machine has been able to repeat what the human hand has done. A men's gold bracelet is an excellent gift for a beloved man, and for a brother, father or boss. This ornament testifies to the depth of feelings and their sincerity, but at the same time does not hint, like a golden ring, to personal relationships. Such jewelry looks great on tanned skin, as it will highlight the brilliance of gold and its sophistication. In addition to the classic image of men can also serve as bracelets with watches, but always made in a strict style. Gold chains for men "Bismarck" suitable for a business reception or a solemn event. They will give the image a kind of chic and irresistible. Men's gold bracelets are excellent accessories for business and modern men who care about their style and image.
Related news
Male gold bracelet as an original decoration for a loved one image, picture, imagery