Liquor "Limoncello" at home: a recipe
"Limoncello" is a famous Italian liqueur, relevant both as a standalone drink and as an element of cocktails. In addition, due to the rich taste it is used in the process of cooking desserts. The average price per liter is 3,000 rubles, while the composition is elementary, and the manufacturing method itself is up to even inexperienced housewives. How to cook "Limoncello" at home, as well as a few recipes with its use, we consider in this article.
Origins
This drink is massively produced in the southern part of Italy, however, every housewife of the country considers it his duty to prepare a homemade drink, bringing something of his own. The recipe is passed from generation to generation. Chances are that when visiting different Italian families you will try different liqueurs to taste, despite the fact that the name does not change.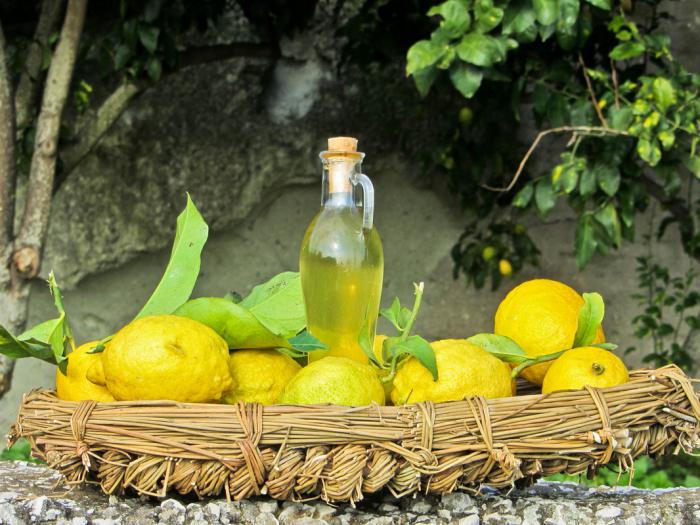 "Limoncello" is a delicate taste and even a certain breed, the second most popular drink in Italy after Campari.
Classic composition
Liquor "Limoncello" at home is easy to prepare as simple as the original composition includes only 4 elements:
lemons;
water;
sugar;
alcohol.
Depending on the wishes, you can vary the set of citrus. For example, a liqueur based on lime will become very fragrant and tender.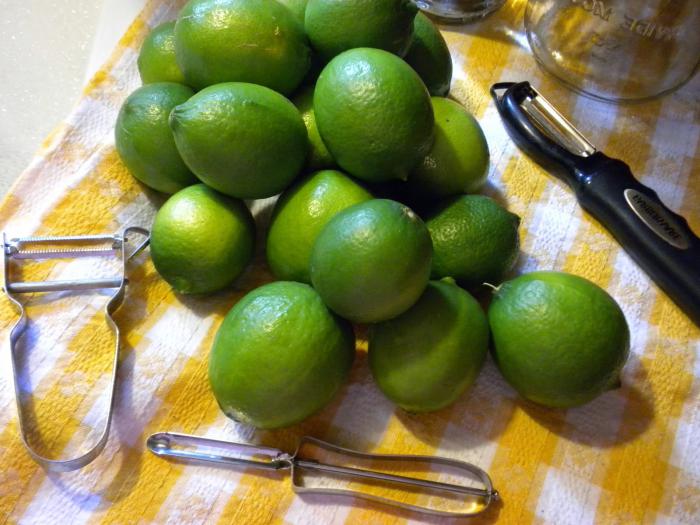 A drink of oranges will be similar to Cointreau. It is not recommended to use grapefruits, as the smell will turn out unpleasant.
The strength of the final drink also varies from 15 to 40%, since everything depends on the proportions, which in practice are very conditional and each cook has his own. They are stored, as a rule, in the freezer - the output is a sticky texture and no ice crystals.
Basic recipe
In order to prepare the Limoncello liqueur at home, prepare the products in the following proportions:
alcohol 96% - 500 ml;
sugar - 250 grams;
lemons - 5 pieces;
mineral water without gas - 750 ml.
Important! Lemons should be as fragrant as possible. Wash them thoroughly before use.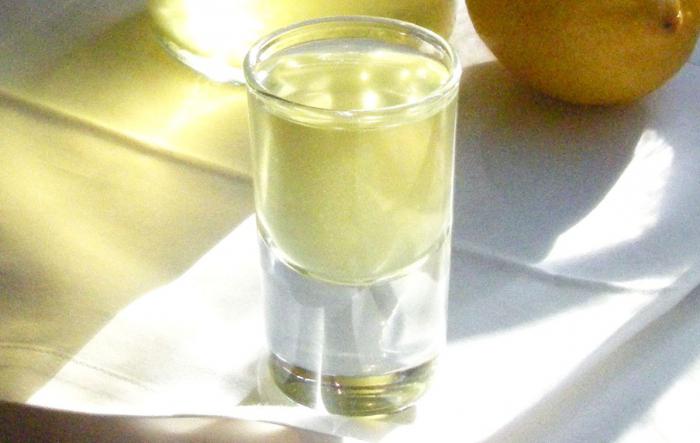 Peel off the lemons with a peeler. Try to capture only the yellow part of the skin - white will ruin the taste of "Limoncello", cooked at home, as it tastes bitter.
Put the zest in a jar, pour with alcohol.Tightly close the lid and leave in a warm dark place so that the aroma from the zest is most fully transferred to the alcohol.
Shake the jar a couple of times a day.
The period of "aging" - 6 days. It is not recommended to leave the mixture longer, as the taste of the liquor will suffer. Of course, against the background of the usual infusions in Russia, which are waiting in the wings for months, such a period may seem strange, but the risk is justified.
The next stage of preparation begins as soon as the period of maturation of the alcohol base "Limoncello" at home has come to an end.
Cook the syrup out of the specified amount of sugar with water. Do not boil! Simply mix both products and heat over low heat until sugar is completely dissolved. Syrup should be comfortable for the human body temperature. Check it out is simple - dip a finger into the liquid and be guided by your feelings.
Strain the tincture on the zest through a fine sieve, mix with warm syrup. Let stand a couple of days, and you can serve liqueur "Limoncello." At home, it will be appropriate as the end of the summer lunch.
"Limoncello" in the cocktails
Due to its rather high strength and subtle expressive taste,This liqueur perfectly manifests itself in a variety of cocktails. Consider a few recipes where it will be appropriate.
Cremoncello
For three servings, take:
"Limoncello" - 90 ml;
cream fat content of at least 20% - 90 ml.
Recipe from the series "The Golden Collection of Oblomov." Pour the liqueur into glasses (cooked in advance "Limoncello" at home will be very useful), pour in chilled cream on top. Cocktail turns out similar to lemon ice cream with a subtle hint of alcohol.
"48 drops"
For three servings you will need:
vodka - 90 ml;
sherry - 90 ml;
liquor - 90 ml;
orange orange peel - 3 pcs.
A shaker with a volume of 0.5 liters filled with ice, pour in the same alcohol and shake well. Strain and pour into glasses, decorating zest.
Love me do
A very delicate, delicate cocktail with an exotic touch, ideal for a female company, especially if you prepared Limoncello in advance at home.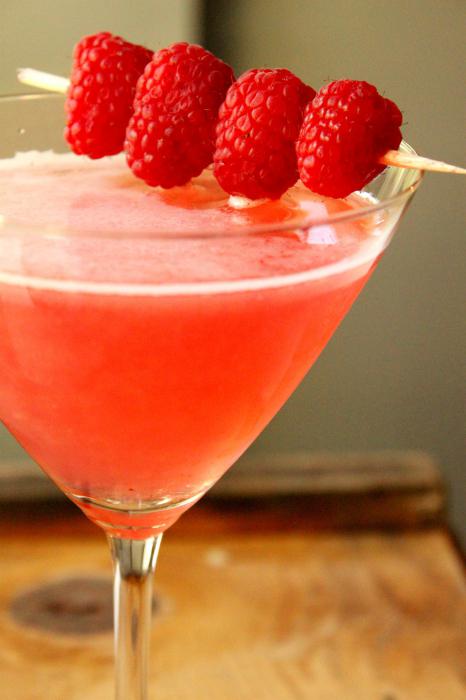 Take three glasses:
white rum - 90 ml;
lychee liqueur - 30 ml;
mango juice - 150 ml;
raspberry - 45 grams;
lime - 60 grams;
Limoncello liqueur - 30 grams;
passion fruit puree - 270 grams.
Shredded lime and passion fruit in a shaker with a madler. Add to the same other ingredients, except raspberries, whisk thoroughly. Strain, pour into glasses and garnish with raspberry berries.
Lemon Coconut Cake with "Limoncello"
The homemade "Limoncello" that we described earlier at home will be on hand to those who love the combination of lemon and coconut. We offer you a recipe flavored, juicy cake with a hint of alcohol.
Biscuit:
eggs - 5 pieces;
sugar - 150 grams;
flour - 120 grams;
small coconut flakes - 30 grams;
grated lemon peel - 1 tbsp. a spoon;
salt - pinch;
lemon juice - 1 tbsp. a spoon.
Impregnation:
liqueur "Limoncello" (prepared at home) - 50 ml;
sugar - Art. a spoon;
water - 100 ml.
Cream:
lemon juice - 80 ml;
Limoncello liqueur - 50 ml;
grated lemon peel - 1 tbsp. a spoon;
eggs - 3 pcs .;
sugar - 120 grams;
cream - 250 ml;
powdered sugar - 4 tbsp. spoons;
gelatin sheet - 2 grams.
Decoration:
coconut flakes - 100 grams.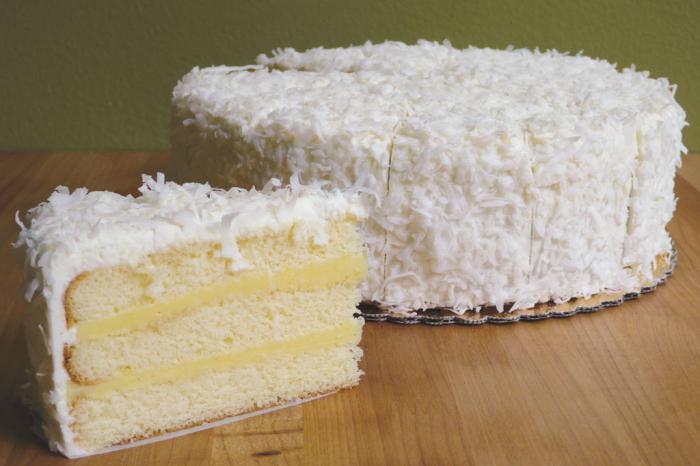 All products are given on a form with a diameter of 22 cm.
Cooking "Limoncello" at home, of course, easier than this cake, but it is worth all the effort.
Preheat the oven to 170 C. Spread out the form with baking paper. Separate the whites and yolks. Beat the whites with lemon juice and salt until soft peak. Gradually sprinkle the sugar, continuing to beat. At the exit should get a strong glossy mass. Stir yolks one by one into whipped whites, add the zest. Beat on low speed mixer.
Add coconut chips and sifted flour to the egg mass, knead from bottom to top until smooth. If you wish, you can add a tablespoon of liquor to the dough (fortunately, we described the recipe for "Limoncello" at home above).
Put the mass into the prepared mold and bake before sampling on a dry toothpick.
Allow to cool completely and leave the cake to stand for 6-8 hours, after wrapping it in cling film.
To soak boil the syrup out of sugar and water, add the liqueur. To make the cream, mix the sugar, lemon juice, zest and eggs, put in a water bath and cook until thick. Allow to cool completely and pour in 25 ml of liquor.
Soak gelatin in water. Beat cream with icing sugar to soft peaks, putting 50 ml from the bulk. Heat the deferred cream and dissolve the gelatin in them. Chill.
Continuing to beat, pour into the cream gelatin mass. Beat until strong peaks, pour in the remaining liqueur, stir with a spoon. To decorate, fry the coconut shavings in a dry frying pan until golden brown.
Assembly
Cut the biscuit lengthwise into three pieces. Put on the plate the first layer. Saturate with syrup.Smear with half of lemon cream.
Put on top of the second layer of biscuit. Saturate with syrup. Refill with the remaining lemon cream. Press down with the last layer of sponge cake.
Apply evenly to the entire surface of the cake cream with "Limoncello" and decorate with coconut flakes.
Refrigerate and allow to soak for at least 4 hours, after which you can serve.
Thus, the recipe for "Limoncello" at home gives you the opportunity not only to enjoy a fragrant drink, but also to prepare a dessert that will satisfy the pickiest eater with its taste.
Related news
Limoncello liqueur at home: a recipe image, picture, imagery