Ichpichmaki: delicious triangles with meat and potatoes
This tasty Tatar dish (it is also called "ispishmaki", "uchpochmaki" or "ochpochmaki") is very similar to Russian pie. Pies made to serve tea with butter or broth. In the middle of the product put a spoon of butter or broth. So ichpichmaki become even juicier. The article contains a recipe for triangles with meat, following which, you can get a whole tray of pies.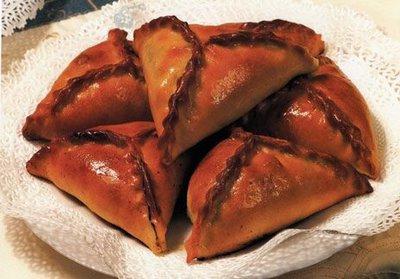 Dough
Here we need yeast dough. You can buy it as a semi-finished product or knead it in a bread maker, or you can make it yourself so that the warmth and diligence of our hands are transferred to the pies, which will make them even tastier. Some Tatar mistresses bake triangles with meat and without yeast. To prepare the base, they take a pack of softened margarine, pour it with a glass of warm water with 5-6 spoons of vegetable oil, add a spoonful of sour cream or mayonnaise, baking soda, salt, sprinkle with flour and knead soft dough.According to the classic recipe, you need to take a bag of dry yeast, dilute them in a glass of warm milk with a spoonful of sugar and a pinch of salt, drive an egg, add 6 tablespoons of sunflower oil and pour a pound of flour gradually. Cover with clean gauze and put in a warm place to grow.
Cooking stuffing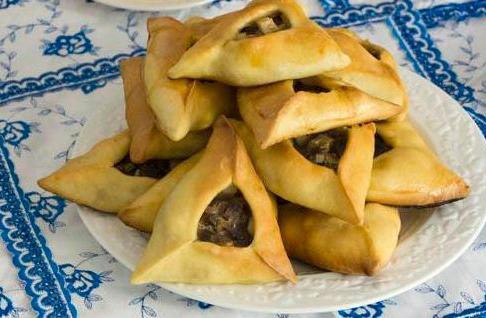 The very name of the dish - triangles with meat and potatoes - speaks eloquently about how we will stuff our ichpichmaks. Tatars traditionally use mutton for these pies, but, in principle, you can take beef or even pork. It is best to buy a category of meat "for goulash", but then we need to grind it into cubes the size of hazelnuts. If the dough you took 500 grams of flour, then the filling will need 300-400 grams of lamb, 3-4 medium potatoes, large onion. All ingredients are cut equally into small pieces, salt and pepper. Under the action of salt juice will begin to stand out. We give mince to marinate for half an hour or an hour.
We make triangles with meat and potatoes
When the dough fits, and the filling swims in its own juice, proceed to the modeling of pies. Liquid with mince merge. We take out the dough and once again mnemy his hands.Rolling pin us in the cooking process is not needed. We pinch off pieces of about 80 g from the bun and form triangular cakes from them. They should not be very thin, as the dough may tear, and the juice flow. In the middle of the flatbread we put a spoonful of the filling and pinch it on three sides, leaving only the top of the "pyramid" open.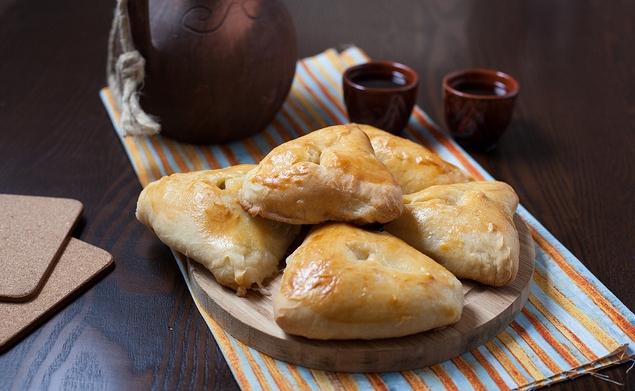 Baking
Flat baking grease with any fat and lay on it our triangles with meat and potatoes so that the hole is at the top. For beauty, we lubricate the products with egg yolk so that they come out ruddy and do not crack. Leave this for another 20 minutes. Heat the oven to 190 C. Bake ichpichmaki need at least 25 minutes. Since there are products such as raw meat and potatoes inside, the readiness of products must be checked not only by dough. We pierce the wooden toothpick and the filling (through the slightly open top of the "pyramid").
"Recycling"extra products
Triangles with meat and potatoes are served, as already mentioned, with broth or butter. It often happens that the filling remains. Dont be upset.
Related news
Ichpichmaki: delicious triangles with meat and potatoes image, picture, imagery