How to make whipped cream at home? Whipped cream - photo, recipe
Cream is now involved in almost every recipe for baking or dessert - when in its original state, when in whipped form. Beautiful, delicate, melting on the tongue mass, leaving a light creamy aftertaste ... No "vegetable cream" can not be compared with them. However, the natural product is quite capricious and loves to bring in the most important moment. How to make whipped cream at home, we will look at this article.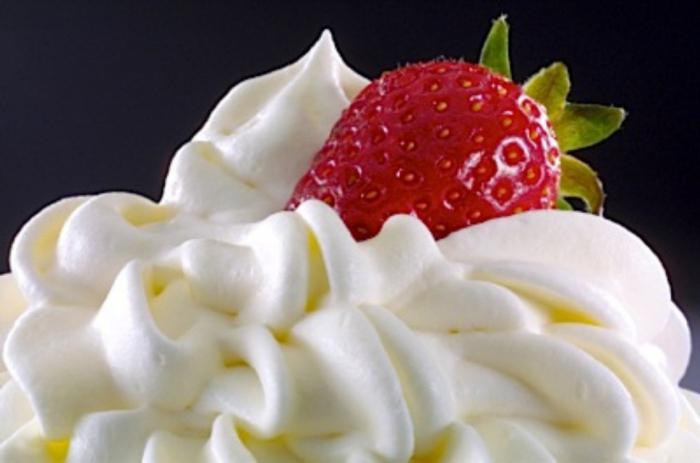 What you need to know
As mentioned above, the cream is inconsistent and regularly pretends to be "poor relatives", categorically refusing to whip up into a lush foam when all the other components of the dish are ready, and time is running out. How to protect yourself by minimizing the risk of failure? So, the educational program:
Temperature. You will never achieve the desired result with this product, if you do not cool it.Ideally, the bowl in which you are planning to beat, should stand for at least half an hour in the refrigerator. Corollas send the same.
Volume. If you are planning to whip no more than 300 ml at a time, give up the mixer in favor of the hand whisk. Yes, it is more difficult, but our task is to figure out how to make whipped cream at home correctly.
Sugar.Do not use it. The structure of whipped cream is too delicate, it will not be able to cope with large crystals. Therefore, only icing sugar. The recommended proportion of powder - 1:10.
Aroma. Can and should be. Cream perfectly tolerate aromatization of alcohol. If you want to get mint or coffee cream, pour in or fresh mint / coffee in the same proportion of 1:10, leave to cool for a few hours.
If you doubt the durability of the product used, or the finished product with cream will have to spend several hours outside the refrigerator, then it is worthresort to fixer,whose role will play gelatin. In 30 ml of the product dissolve on low heat, without boiling, 1 sheet of gelatin weighing 2 grams, mix with 300 ml of cream. If necessary, increase the total volume while maintaining the proportion.
Do not neglect these tips. And you get a great cream. Whipped cream (the recipe you use is secondary) will not let you down.
Cakes
It's no secret that cakes and cakes are different. In some cakes are dry, and to achieve the best result, the cream must be fluid, so it can better impregnate the layers, in others the base is juicy by itself, and therefore the cream requires durability, the ability to hold the form, without spilling. All this affects the extent to which you need to whip a creamy mass.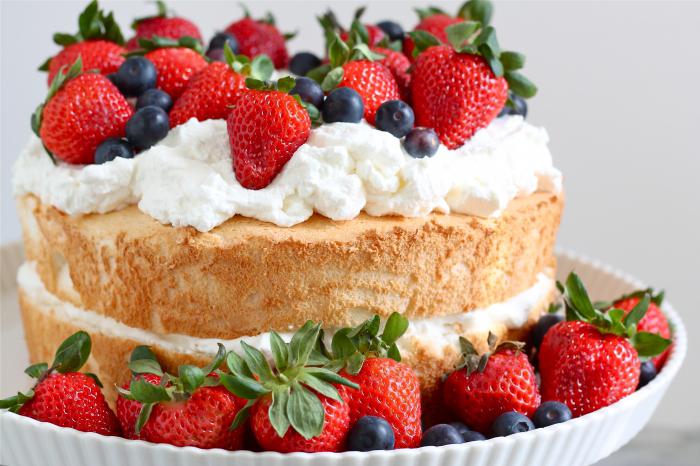 The cakes with mousses stand apart: in order to get their consistency correct, not rubber and dense, but delicate, you cannot get a stone texture from the cream. How to whip cream for cake mousse? The correct consistency is soft peaks, confectioners also call it "three quarters", that is, it holds the shape, but barely perceptible.
Meanwhile, the subject of the article can be used not only in the form of a cream, but also as part of the foundation. If you add some cream, pre-whipped cream to the usual biscuit mass, the result will greatly please you.
Whipped Cream Sponge Cake
At the exit you get a peculiar form of a cupcake, but not so heavy and fat, as in the case of butter.It can be used as a basis for the cake, and as an independent dessert, serving with sauces and berries to taste. You will need the following products for it:
eggs - 2 pcs .;
sugar - 100 grams;
cream fat content of at least 33% - 175 grams;
flour - 125 grams;
baking powder - 1 tsp;
vanillin - pinch;
salt - a pinch.
Preheat oven to 180aboutC. Sift flour and baking powder into the bowl.
Beat in separate bowls until fluffy foam resistant eggs with sugar and cream. How to make whipped cream at home (the right!) We have discussed above.
Stir in the egg mass cream by folding, trying to maintain its airiness. Add flour mass in two stages, interfering in the same way.
Put the dough in the form and bake for half an hour. Cool it down.
Anti-crisis
What if cream cream is very necessary, and in the shops they are not found? Human ingenuity and then did not disappoint.
So what is the difference between milk and whipping cream? The level of fat. Increasing the level of fat content of milk, we get a lot, the composition is similar to the cream. To do this, take:
butter (quality!) 80% fat - 500 grams;
Milk 2.5% fat - 500 ml.
From the specified amount at the exit you get a liter of cream.
To make whipped cream out of milk, rub the butter into the milk and heat over low heat to achieve complete dissolution of the butter. Milk should not boil!
Pour the mass into the brand and "chop up" the mass with the nozzle "knives" within 3-4 minutes - it is necessary that the milk and butter should be properly connected. This is necessary so that the mass becomes more or less homogeneous, which will allow it to whip into a beautiful foam, and not to go lumpy.
After that, pour the mass into any container with a lid convenient for you. Cover with a clean kitchen towel and press a lid on top - this measure will help prevent condensation, as it will be more difficult to make whipping cream at home. Cool to room temperature and refrigerate overnight. That's all, the cream is ready, you can use them.
Without additives?
Today it is difficult to surprise anyone with a conventional cream of whipped cream, as in itself their taste without fillers is still simple. Of course, if the cakes are distinguished by a rich, rich taste, then the overall combination may please, and if we are talking about a regular biscuit, then it is worthwhile to come up with something more complicated.Of course, you can mix in melted chocolate whipped cream already and calm down, but we offer several creams that are more complicated and tasty.
Options
Whipped cream (there is a photo of them in the article), with its rather restrained taste can give lightness and tenderness to an expressive, but dense cream.
For example, you can cook a Kurd:
fruit juice with a bright taste (lemon, lime, passion fruit) - 70 ml;
egg yolks - 4 pcs .;
salt - pinch;
sugar - 100 grams;
butter - 70 grams.
Mix everything in the bowl, except oil, in a water bath. Cook until thickened on a small fire, preventing boiling. Remove from heat, add oil, beat and cool.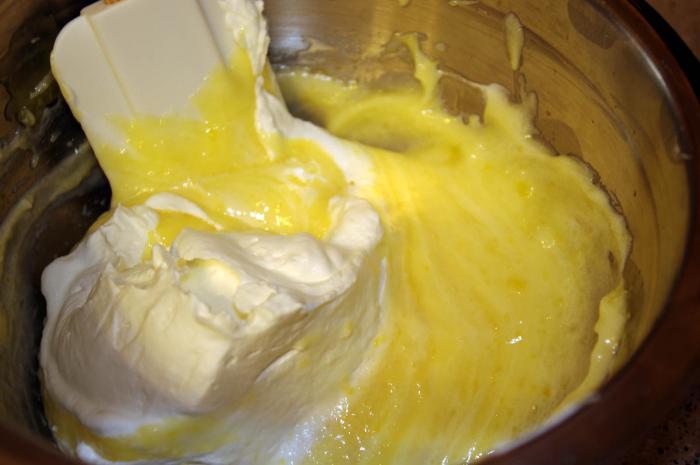 Kurd is bright, tasty, concentrated. We have already described how to whip the cream for the cake, they are perfect for this fruit custard. Mix both masses gently until smooth and use them.
Related news
How to make whipped cream at home Whipped cream - photo recipe image, picture, imagery