How to make ice cream at home: ice cream and ice cream cake
How to make ice cream at home? Ice cream can not only be bought in the store, but also be made with ordinary hands from ordinary ingredients. You can buy a special device for the manufacture of this delicacy. Then the ice cream at home can be cooked completely without effort. But the ice cream maker may well replace the usual mixer and freezer.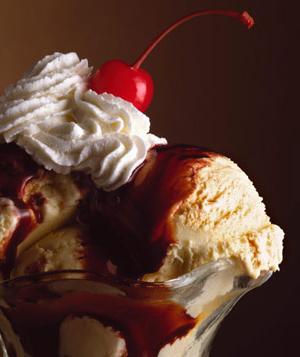 How to make ice cream at home
Cream with less than thirty percent fat will not work. You need at least 33-35%. And also a glass of sugar, vanilla, three yolks and half a glass of whole milk. There are several ways to make ice cream at home. It is better to dwell on the recipe, in which there is no need to use raw eggs. Boil the milk, pour in the sugar-yolk mixture, after it has cooled down, and again boil it. Moreover, it is desirable either to the water bath or to a very small fire in a saucepan with a thick bottom.Mixing should be continuous and ensure that the mixture does not burn and does not form lumps. Departing from the recipe, you can still say that replacing the yolks with milk and sugar is also possible with ordinary condensed milk.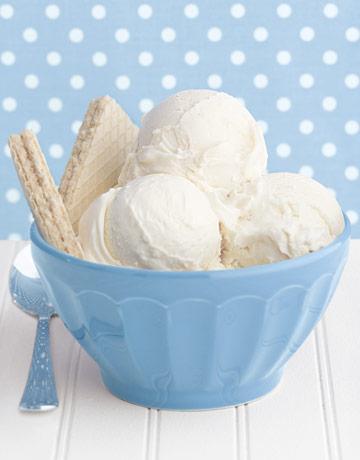 Such an ice cream will not have a light yellow beautiful shade, which is given by the yolks, but it will turn out very tasty too. Then whip the cream until elastic peaks with a whisk or a mixer. Add a yolk sugar or condensed milk to them and gently mix. Then comes the stage of freezing. In order to obtain the desired texture, it is necessary to avoid the formation of large ice crystals. To do this, the mixture is often stirred. In the ice cream maker, this happens automatically. And in case of its absence, use a mixer or just mix the mixture with a fork every half hour. Serve ready-made ice cream with chocolate chips, jam or toasted nuts, decorate with candied fruits and fruit slices.
How to make ice cream at home and make strawberry-banana cake from it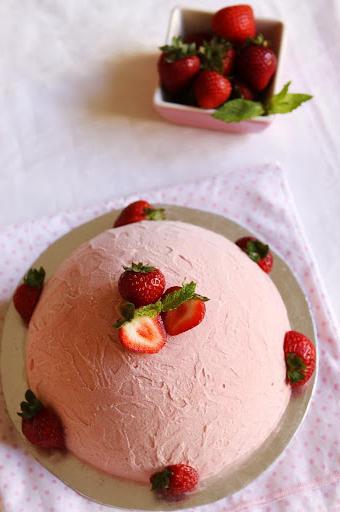 You will need half a kilo of strawberries and 4 ripe bananas (you can even take fruits that begin to darken). Of them need to cook mashed potatoes.Rub strawberries through a sieve, and mash the banana with a fork. Put them in separate containers and set aside for a while. For bananas, you can add a little icing sugar. Depending on their natural taste, this amount may vary. In a strawberry puree add a glass of sugar, four ground yolks and four hundred grams of whipped cream. In a banana - two yolks and two hundred grams of cream. Then layered out in a round container covered with film. First strawberry layer and let it freeze in the freezer. After extraction mix and pour a banana layer. It is necessary to mix only the upper part and in such a way that the strawberry and banana parts do not mix with each other. After all the ice cream hardens, it should be laid out on a plate, first quickly dipping the container in boiling water. You can decorate with canned cream, sliced ​​strawberries, slices of bananas. Now you know how to make ice cream at home and make a delicious and beautiful cake from it. Cook and delight your loved ones!
Related news
How to make ice cream at home: ice cream and ice cream cake image, picture, imagery