How to make beautiful and bright hearts out of clips
The clip is a rather ordinary and inconspicuous part for fixing documents and other products, but this is only for those people who cannot consider it in other variations. In the hands of a creative person, such a piece of metal wire, bent several times, in a matter of minutes can turn into a charming element that will decorate everyday life.
Small pleasures
Hearts made from paper clips look very cute and beautiful. Children especially adore them, because these are not just knick-knacks, but very real bookmarks for books. Such crafts perfectly cope with their task, despite the tiny size. They can also look completely different, with the same shape. To achieve the uniqueness and originality of small handicrafts can be achieved through the use of various materials, such as satin ribbons, nail polish, beads, springs and a lot of other things that every house has to do.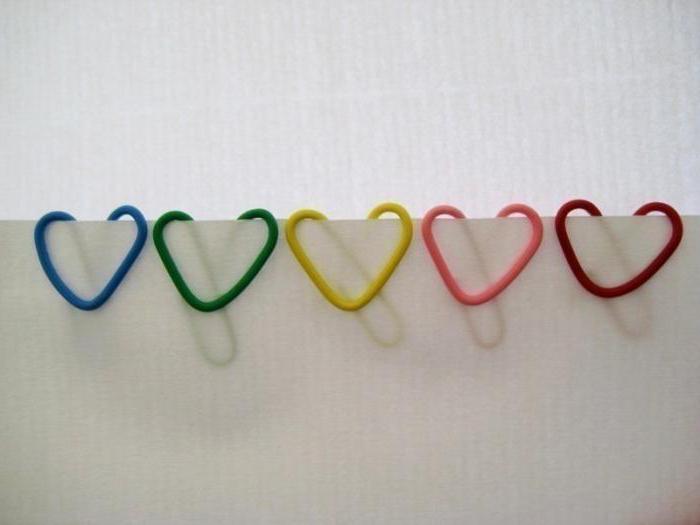 Each person can make an original bookmark for books very beautiful and unique.Even a six-year-old child will be able to do this. The main assistant in such work will be a step-by-step guide that will help you understand how to make hearts out of clips correctly. Especially such an instruction is necessary if actions are performed for the first time.
Metal miracle
When transforming a clip into a heart-bookmark, you first need to learn how to make the necessary shape, and then proceed to decorate it. Consider how hearts are made of paper clips in stages:
Take any paper clip and place it in front of you horizontally so that its long solid surface is on the opposite side from the person performing the action.
Then you need to start bending the clip in the middle (towards yourself).
When bending the upper (sharp) end must be tucked under the bottom so that it does not stick out.
Continue bending until a heart is obtained.
After the work is done, there will be a heart in front of you, in which one edge is slightly larger than the other. For those who want to do crafts with the same sides, the protruding edge just needs to be gently pressed down, and the mold will align.
Heart shaped bookmark ready.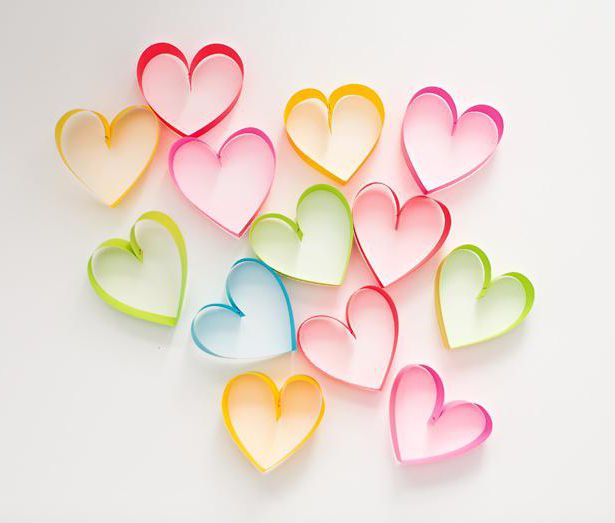 It is possible to improve the finished product not only with the help of various decorations, but also through a double bookmark. To do this, you need to build two identical crafts, which will need to be interconnected, rewinding the protruding edges of hearts. It is best to rewind with a piece of wire taken from an unbent clip. Thanks to the implementation of such simple actions, interesting double bookmarks are made of paper clips, the hearts on which look great.
Satin superiority
Having learned how to make hearts out of clips using different methods, as well as having made them, you can proceed to decorate the product. This will improve the crafts and give it the chic inherent in handmade things. One of the ways of such decoration is wrapping the heart-bookmark (from the outside) with a satin ribbon. For these purposes, it is necessary to prepare a thin satin ribbon of any color and wrap the product in a spiral. The edges of the tape should be attached with a glue gun. Hearts wrapped in shiny ribbons will also look beautiful. Such interesting bookmarks can be made as a souvenir for a girlfriend orloved ones. They can be used not only as bookmarks for books, but also as clips for sachets.
Cool stuff
A very good idea to transform the bookmarks with hearts is their coloring in a variety of colors and shades. Although there are already color clips on sale, but those painted by him personally look more colorful. Moreover, this is not about simply applying nail polish to the surface of the bookmark, but about using other materials with it. We will talk about how to make hearts out of such clips in this style below.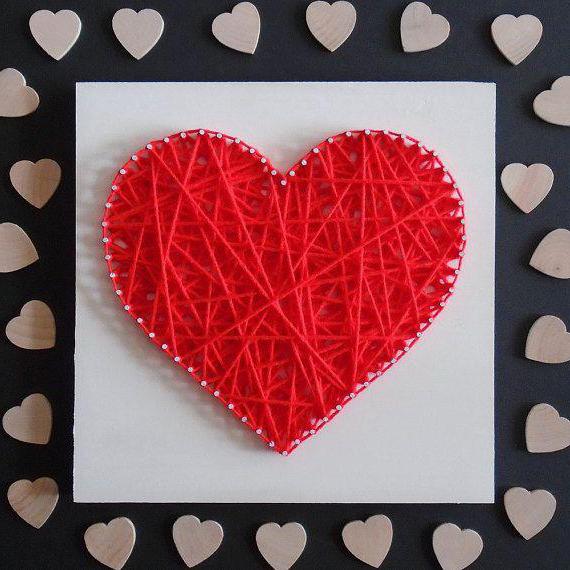 Get ready heart of paper clips and thin threads of any color.
Begin to bind the threads on the surface of the heart so that they are stretched like strings, if necessary, make fixing knots.
When the entire surface of the craft (outer) is covered with threads, proceed to dyeing the product. For these purposes, you can take a nail polish or spray with a golden paint.
Leave to dry.
There are quite a few similar ideas for transforming clips into hearts and their various decorations, but the most interesting and unique ones are those that a person comes up with on his own.Therefore, in order to find out how to make hearts out of clips unlike others, you just need to try to decorate them with different materials at hand.
Related news
How to make beautiful and bright hearts out of clips image, picture, imagery