How to decorate the table: ideas and photos
What does the success of any party or simple family gatherings depend on? Of course, from the table setting! For those who are planning to organize a holiday or arrange a pleasant surprise for a loved one and ponders how to decorate the table, we picked up a few original ideas!
New Year
New Year - the last and biggest night of the year. You should gather all your family and friends and have an incredible party to say goodbye to the passing year. To make this night unforgettable, you must make everything sparkle around! Star garlands, golden balloons, champagne bottles with spraying - everything should sparkle. It is very important to know how to decorate the table. In order to make the table truly festive, no need to spend a fortune! You will need high plastic vases and Christmas-tree decorations. Jewelry should be laid out in a vase, shifting them with coniferous branches. The best colors are red, white and black.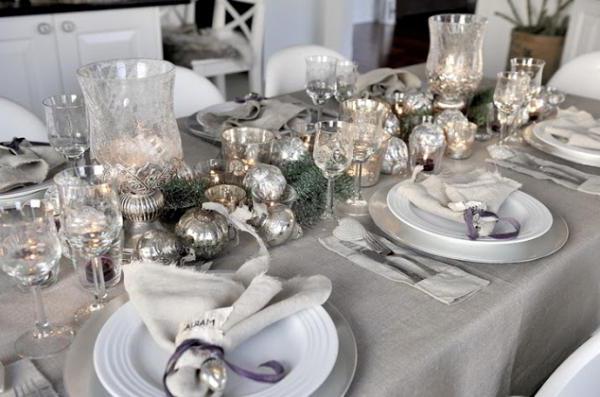 Adding gold glitter can turn any party in the New Year.You can decorate the table with bowls filled with golden beads or garlands from your New Year collection. Brilliant cake - another attribute of the holiday. How to decorate the table at home with the help of baking? Very simple! It is necessary to cut the stars out of cardboard, glue them on wooden skewers and add glitter. Then simply place the skewers in the center of the treat!
Adherents of the classics on New Year's Eve should turn to country style. This style is characterized by the following details:
shades of red and green;
print cell;
natural materials - spruce branches, cones.
Designers say that a combination of dark tones and a light tablecloth looks good. By the way, dishes can be with pictures, for example, with New Year's scenes. Of course, not to do without a large number of candles. They can be put in banks of different heights, add rowan berries, cones, fir branches and glitter. Don't forget about canes!
Christmas
How to decorate the table for Christmas? There are lots of options. Of course, the traditional Christmas table is usually red. But not necessarily follow the traditions. How do you like white and pink or green?
By the way, almost all white elements are perfectly combined with other colors. That is, by making white the main color on the Christmas table, you can easily create a sense of solemnity and purity. Bright details, in turn, will bring notes of joy. To create a mood you need bright napkins and suitable Christmas balls.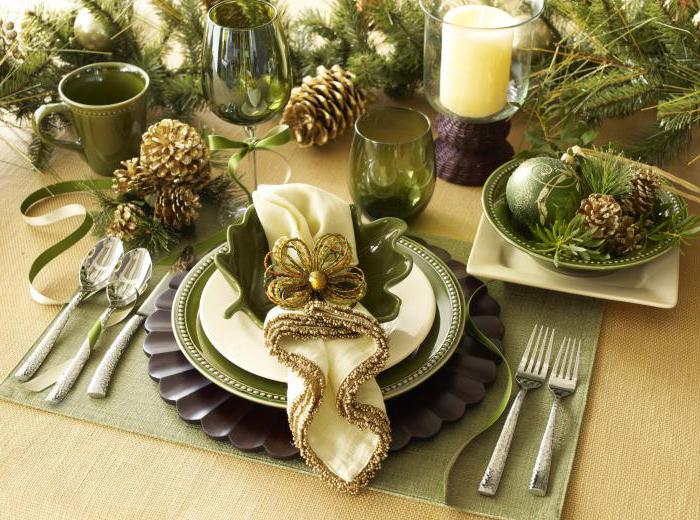 Want to add oriental notes to the creation of a festive table? It is enough to pick up the dishes of lilac and brown color. On this table will look great crystal. In order not to weigh down the surface, it is worth refusing other tones. How to decorate the table for Christmas in the style of Provence? You will need a simple white tablecloth and blue crockery. An excellent option would be small bouquets of lavender, white candles, lace and napkins. Do not do without the small porcelain angels. Bon appetit!
Do not give up the combination of milk or beige with green. Christmas at this table will be held in an atmosphere of peace and warmth. You will need crystal and bright dishes. All parts should be as simple as possible!
Valentine's Day
How to decorate the table for a festive dinner in honor of Valentine's Day? Traditionally used for the decoration of flowers, a variety of hearts, bright ribbons.If you like classic and sophistication, you should opt for white and various shades of red and pink. The theme of the celebration will be textiles with a print of hearts or dishes in this form. Very ordinary accessories look wonderful - vases and folded napkins, table lamps and candles. By the way, the rose petals play a special role in creating a romantic atmosphere.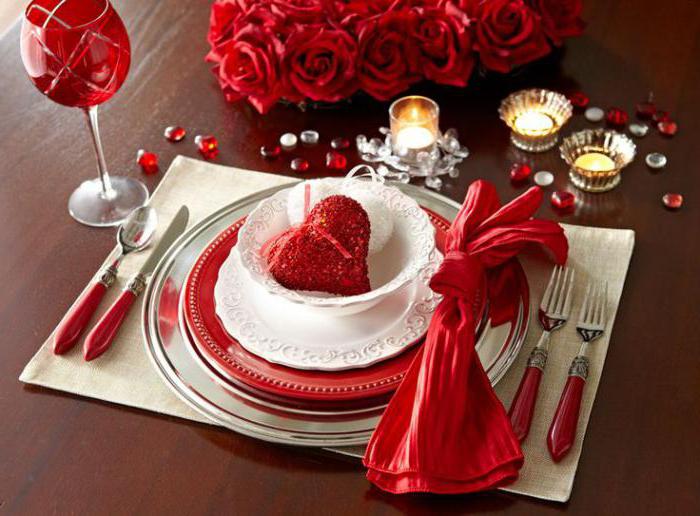 Fans of more original solutions should try a black and white checkered tablecloth or golden coasters and bright pink ribbons. Unbanal looks "tree of love." To create it will need a few twigs of apple. They should be cut a couple of weeks before the holiday. Just in time for the celebration on them buds will begin to blossom. These branches can be decorated with small photos of lovers, hearts, ribbons. And, of course, the day of lovers can not be imagined without a large number of flowers - roses, gerberas, lilies. They can both complement the exquisite serving, and become a bright accent!
Spring design
How to turn a simple family dinner into a celebration? In the spring this task will cope with flowering twigs.They can be the main decoration of the spring feast, and can become part of the composition. Simple and elegant look thin willow twigs, daffodils. Well, what kind of spring without tender tulips? How beautiful to decorate the table with these flowers? You can put them in a beautiful vase or tin can, painted in bright colors. For a special solemnity, you can put the tulips in small wicker baskets.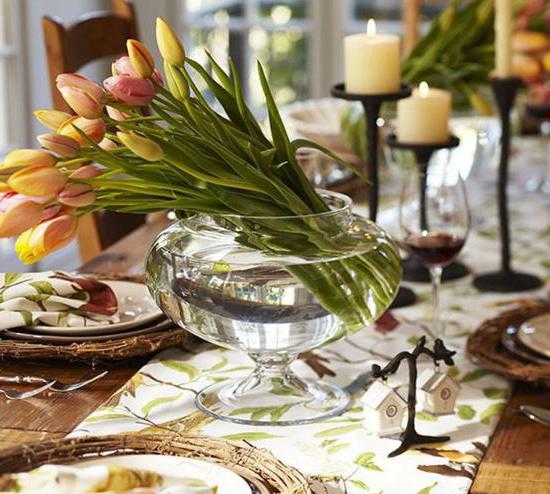 The decoration of the table will be a fragrant lilac. By the way, ordinary burlap perfectly combines with spring flowers, so you should experiment with its use in the design of the table.
Easter
One of the main spring holidays is Easter. How to decorate the festive table for this day? Even the simplest treats will be tastier if served on beautiful plates. When creating an Easter interior is to use light colors. The ideal option is a white tablecloth. Festive table will not do without small figures of birds and animals. Usually it is Easter chickens, bunnies. If among the guests of the Easter dinner there are children or sweets, you should choose chocolate figurines.
In the center of the table you can put the Easter tree.It is very simple to make it yourself: it is necessary to paint dry branches in white color, put them in a vase, at the bottom of which there are decorative stones or colored sand. The tree should be decorated with decorative eggs.
Summer design: how to decorate the table, photo
For summer decor table should choose rich colors. Textiles, dishes, napkins - everything should be bright! In this case, designers recommend using only natural colors. It is also important that it is not necessary to use a tablecloth for the decor of the summer table. Enough and wide track made of natural fabric.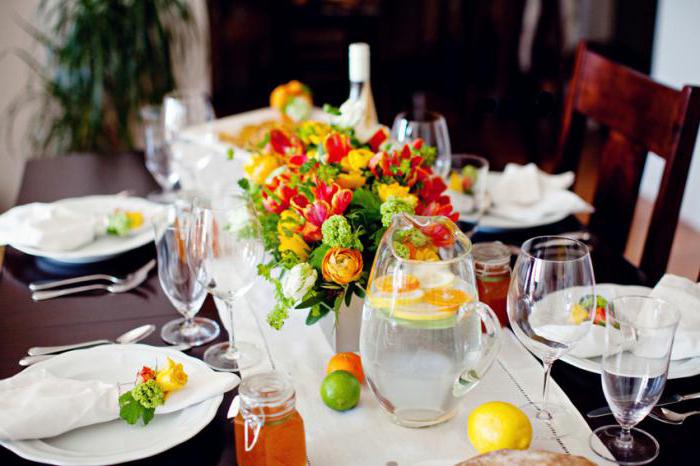 What else can be useful for the design of a summer lunch? Wildflowers, vegetable and fruit compositions. You can put a bright flower on a plate or napkin, designed for each guest - such a sign of attention will surely please your loved ones.
Autumn decor
How to decorate your own table for an autumn feast? The first thing that comes to mind - bright compositions of autumn colors. Their colors will create a festive atmosphere. You can put the bouquets not in a vase, but in, say, a pumpkin! By the way, the pumpkin is the true queen of this season; make sure that there is a place for it on your autumn table.Ordinary candles decorated with autumn leaves and cinnamon sticks will help to make a feast cozier.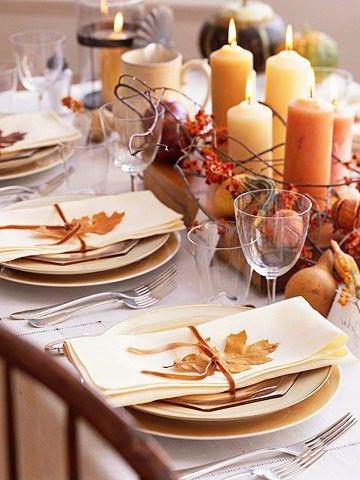 Weather forecasters promise good weather? Dine al fresco! For the decor of the autumn table you will need only one flower arrangement or several small pumpkins and fragrant apples.
Halloween
It is believed that the decoration of the table on Halloween should be particularly terrible and intimidating. But it's not at all necessary to spoil your appetite and those around you because of the bloody marks on the tablecloth or dishes in the shape of skulls. You can simply take the dishes that you use daily. The classic color of this holiday is orange, so just take a bright tablecloth or cloth napkins. There must be a pumpkin on the table - it can be an independent decoration, you can use it as a candlestick. But if you still really want to make the holiday creepy, then this will help disgusting rubber insects, for example, spiders.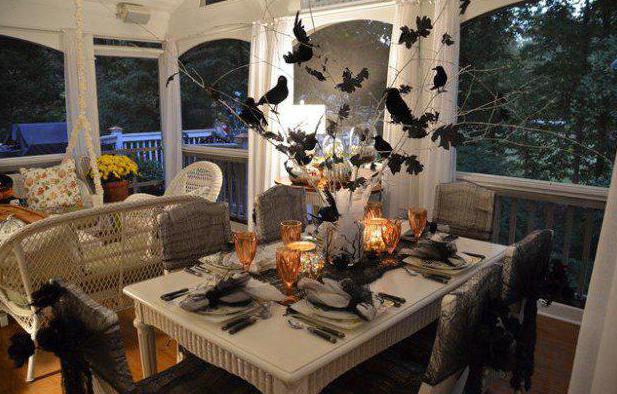 To make the table look like a holiday, you should stock up on orange napkins, black lace, candles and ribbons of black and orange. For seating cards, you will need bats cut from black paper.
Related news
How to decorate the table: ideas and photos image, picture, imagery