How to cook white eggplant: recipes
Practically everyone knows that when cooking eggplants can acquire a specific bitter taste. Sometimes it repels many from the purchase of this vegetable. But not everyone knows that there is a so-called white eggplant. Now it is actively used in cooking. It was created specifically for those who do not want to pre-boil or soak the usual purple or dark blue fruit.
What are the features of this type
White eggplant is a hybrid that originated from the blue progenitor. The fact is that eggplant contains a substance that we give them a specific color. It is called anthocyanin. White varieties are free from it, which allows them to acquire a white, milky or yellow shade.
By the way, it is worth noting that in itself anthocyanin is extremely useful. It helps to get rid of free radicals, that is, supports the body's immunity and resistance to disease.
Thus, this type of eggplant has both advantages and disadvantages.The advantages include the original appearance and the lack of taste and bitterness, which are subject to purple eggplants. The minus is in reducing the beneficial properties of the product.
The white variety of this plant is not the only one. There are also, for example, Thai or finger variations. However, in our country, the usual purple eggplants or white hybrids are popular.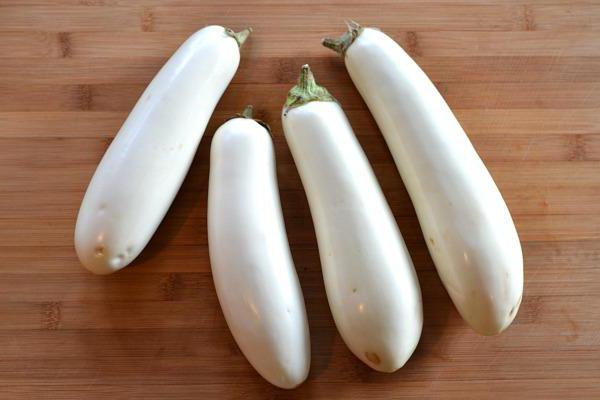 Eggplant Varieties
White eggplant has already gained popularity, so you can find several of its varieties. All of them are not very different in taste. However, there are differences in the cultivation period, agricultural practices and appearance.
What are the varieties of white eggplant? Popular is considered a variety of "ping-pong." The fruits of this plant are distinguished by their shape: they are round and plump, somewhat reminiscent of balls from the same game.
Also worth noting is the "icicle" variety. The name fully reflects the appearance of the fetus. Its flesh is light, without bitterness, rather dense. The average plant size is twenty centimeters.
A separate is the variety with the romantic name "Swan". It is distinguished by the skin color: cream, with a yellowish sheen.However, the pulp of the fruit also remains white and tasty. Its length can be from eighteen to twenty five centimeters.
What can you do with white eggplant?
With the fruits of this plant you can cook a lot of dishes. In fact, each recipe in which the main variety is present, that is, purple fruits, can be changed by replacing the main ingredient with white.
For example, cooking according to the simplest recipe makes it possible to add a mushroom flavor to white eggplant. For this you need: a little vegetable oil, salt, pepper and the vegetable itself. Eggplant cut into cubes, salt, add pepper. Fry cubes in a pan with the addition of a small amount of vegetable oil until the pieces become brownish.
This variety of vegetable can be harvested for winter. At the same time, the hostesses save their time, since it can be not cleaned and not boiled beforehand. This is important enough for those who value time.
You can also fry this vegetable without removing the skin from it. Of course, the purple variety can also be cooked with the skin, but this can be fraught with unpleasant bitterness of the dish or hard elements.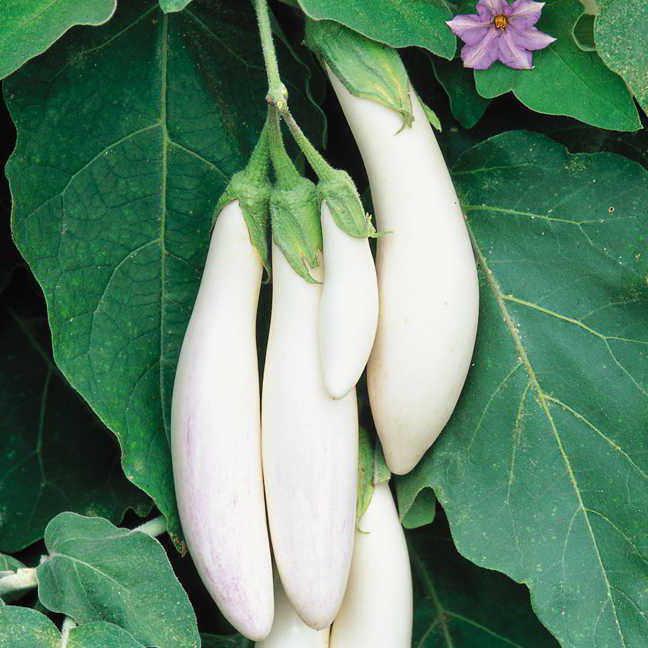 Eggplant with tomato paste: ingredients
To make a white eggplant with a fragrant tomato pot, you will need:
A pair of eggplants.
Garlic - a pair of cloves.
Tomatoes - 3 pieces.
Vegetable oil.
Dried basil and dill.
The first step is to clean the fruits of eggplant. This is true for those who do not like tough skin. Tomatoes can also be pre-filled with boiling water. It will be easier to peel them Also, peeled tomato can be pre-salt.
Cooking in sauce
How to cook white eggplants for this recipe? Cut the fruits of this plant in any form. Someone prefers circles, someone - cubes. Next, you should fry all in a small amount of vegetable oil.
Tomatoes, already peeled, cut as small as possible. Add to lightly fried eggplants. Stew this mixture until the tomatoes turn into mush. Now you can add grated garlic and dried herbs. In this case, stir the dish should be carefully, so as not to turn the eggplant into porridge. However, some prefer just such a drained version.
The finished dish can be eaten both hot and chilled.Steamed vegetables in this case can serve as a side dish and main course.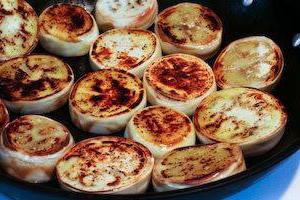 Eggplant pate: ingredients
Not everyone can boast of having tried a white eggplant pate. However, this dish is popular in several countries. For him, you can take and the usual color of vegetables, pate in the end get the same white. However, with a hybrid variety, the final dish is more tender.
For this pate, you need to take:
3 medium sized eggplants.
Sesame paste - 2 tablespoons.
A couple of garlic cloves.
Salt to taste.
2 tablespoons of mayonnaise.
2 tablespoons of lemon juice.
You can also prepare a baguette, pine nuts, as well as greens, such as cilantro, for serving. You can also use parsley or dill. In general, any favorite greens.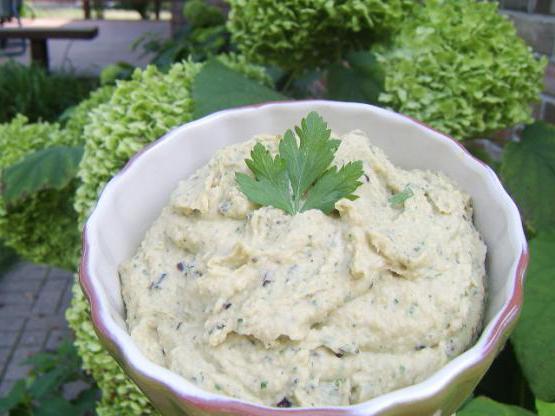 White eggplant: cooking recipes
The first step is to prepare the main ingredient. To do this, eggplant tails cut off, carefully washed the fruit, and then pierce it in several places with a wooden needle or a toothpick.
Prepared eggplants are wrapped in a dense layer of foil, and then sent to the oven at the maximum temperature.When the fruits are slightly burnt, they can be removed.
A prepared fruit is skinned, and the flesh is cut as small as possible. To it add grated garlic and lemon juice, as well as salt. At the final stage, the pate is filled with sesame paste and mayonnaise.
This is a fairly simple recipe for white eggplant. Photos of this dish are quite interesting, as it is served with a fresh baguette, sprinkled with nuts and herbs.
Preparation for the winter: tomato eggplants
How else to cook white eggplants? Recipes for the winter are also of interest. To prepare eggplant for the winter you need:
600 grams of eggplant.
Liter of tomato juice.
300 grams of onions.
A bunch of celery.
One and a half teaspoons of salt and sugar.
9% vinegar - 30 ml.
A little ground coriander.
A quarter cup of vegetable oil.
If you cook this salad from white eggplant, then its taste will turn out more gently. Although this salad in itself combines several shades - from sweetness to sourness.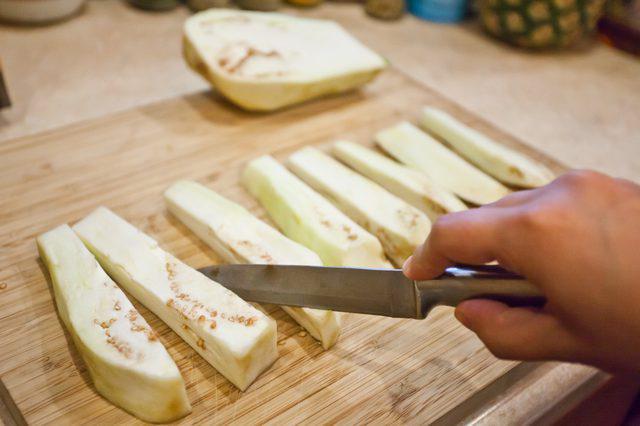 Making salad for the winter
Tomato juice is poured into the pan, put it on the stove. Eggplants are cut into cubes at this time. The skin can not be removed. Onions cut into half rings.
When the juice boils, eggplants and onions are added to it. It is brought to a boil and so hold for about ten minutes. Now you can add salt and sugar. Coriander and vegetable oil are also sent to the pan. Now you should chop the celery greens finely enough. A mixture of eggplant and herbs boil again, and then pour vinegar.
The salad is laid out in sterile jars and boiled in them for about fifteen minutes. The closed banks are cooled in a warm place.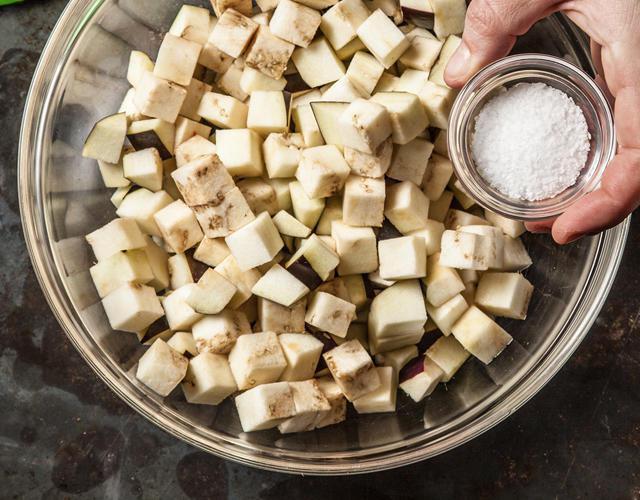 Tasty salad
Eggplant can be cooked and tasty, but at the same time hearty salad. For its preparation will require:
Two white eggplant.
A pair of tomatoes.
Mayonnaise for refueling.
A pair of garlic cloves. The amount can be increased for those who like spicy.
One head of onions. If desired, it can be replaced with a more delicate white.
Three chicken eggs.
Salt and pepper to taste;
Vegetable oil about 40 milliliters.
Onions and eggplants are peeled and then cut into small cubes. They should be sent to the pan with vegetable oil. Fry these ingredients until golden brown. However, in order to reduce the calorie content of the salad, water should be added to extinguish the vegetables.Keep in mind that eggplant collects a lot of oil.
Eggs should be boiled, cleaned and cooled to room temperature. This product is cut into cubes and sent to a salad bowl. They also send ready-made eggplants with onions.
Tomatoes and garlic cut arbitrary slices. They are placed on the cooled ingredients. Now add salt and mayonnaise. If desired, it can be replaced with sour cream or natural yogurt.
When serving, the salad is stirred, decorated with parsley leaves.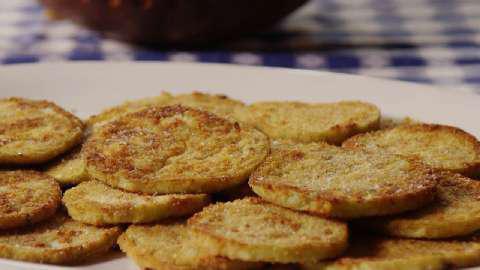 White eggplant - a good replacement for the usual varieties of plants. It allows you not to clean it or soak it in salted water. From it you can cook not only a side dish, but also salads. It is also worth stocking up a couple of jars of lettuce for the winter to feast on them during this snowy period.
Related news
How to cook white eggplant: recipes image, picture, imagery