Cotton candy - fun or profitable business?
Cotton candy - just fun or is it a profitable business?
Perhaps the one and the other. Cotton candy literally attracts with its airiness and aroma of caramel, cherry, mint, orange, blackberry ... Every child, seeing a funny little cloud on a stick, pulls at the sleeve: "Buy it!". Although adults are also not averse to feast on such a miracle. And cotton candy can be a piquant sweet bouquet of colorful balloons. Agree - the original sign of attention to the girl! And the number of people willing to buy such a portion of pleasure is clearly not reduced.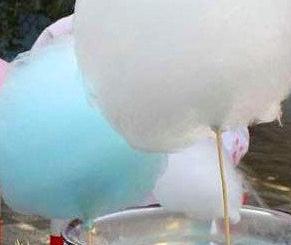 For an enterprising person, cotton candy is a way to get money from the air.
Of course, a number of documents and a permit to trade the product will be required, but the money invested will return incredibly quickly and, moreover, will begin to multiply. The main thing - to choose the right place, the right time and quality device for cotton candy. The very process of producing this delicacy is simple: pour sugar into the cavity of the head of the apparatus, then turn on the machine, wait,until the sugar melts (literally seconds) and start spinning the sprayed fibers on the stick. From a teaspoon of sugar you get a decent lump of cotton wool and, accordingly, a new percentage of capital.
How profitable is the production?
For the sake of simplicity, let's get round to start the price. Suppose a kilogram of sugar costs you a dollar, and a portion of the obtained cotton candy, which takes about 10 grams, costs an average of 50 cents. This means that after the sale of three servings you go to the net profit, the percentage of which is easy to calculate. But for successful trading you need to find the "right place" - the more crowded your point is, the higher your income.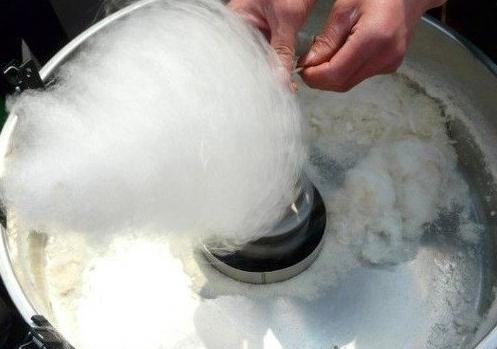 At what points is cotton candy best dispersed?
Of course - in crowded. This is a park, circus, zoo, markets, shops, cafes, fairs. A special emphasis on cotton wool vendors is made on children. And this is understandable, because they especially love sweets. Although the potential consumers include a fairly large percentage of adults, especially girls. The main thing is that your cotton candy machine does not stand in open space. Firstly, it is unhygienic, and secondly, cotton candy refers to very delicate products that quickly lose their shape. Therefore, worry in advance about purchasing a special tent.A logo of your company, painted on the tent, of course, will give solidity.
How much does a cotton candy machine cost?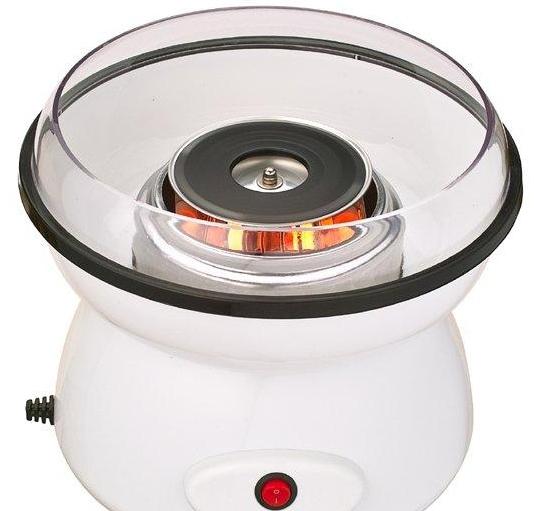 There are no limits to perfection, as they say. Popular machine ECONO FLOSS from GOLD MEDAL, quite compact, small size with a capacity of about 400 servings per hour. The cost of such a device is 750-800 y. e. TORNADO, also from the American manufacturer, differs in higher productivity (700 servings). But this device is much more expensive (about 1500. e.). It is better not to purchase cheaper devices, since there are serious flaws in them, including contamination at the outlet, which leads to burning of sugar. Among the interesting novelties is TWIN WIND, capable of producing a two-color product. Productivity is high, however, and the price is considerable - from 1700 y. e.
About chopsticks, dyes and fragrances ...
Agree, these are also important nuances. Dyes and additives give taste and color, and the product itself should be presented beautifully. Please note - the fillers should be on the allowed list, but the best sticks are made of fruit tree. By the way, tubes for cocktail are quite suitable as sticks.
Related news
Cotton candy - fun or profitable business image, picture, imagery