Cooking delicacies: recipe for liver pie
has many different recipes, he can also have a different "appearance", because each housewife understands the word "pie" in its own way. But in any case, it is more like a pastry than what it actually is - a cold snack. The classic liver pie recipe involves cooking liver pancakes in a skillet and smearing them between layers of carrots, fried with onions, with the addition of mayonnaise. We will consider several options for cakes, including this one.
Recipe number 1: diet cake
Now prepare a low-calorie dish. We will need: 0.7 kg of beef or pork liver, two chicken eggs, half a glass of milk, four spoons of flour, 300 grams of sour cream, one carrot, black ground pepper, three cloves of garlic, greens, mustard, salt. Well, now we offer a recipe for liver pie. Boil carrots, wash the liver, clean the ducts and films, pass through a meat grinder, cut into pieces.It turns out the stuffing, which we drive in eggs, add milk and mix.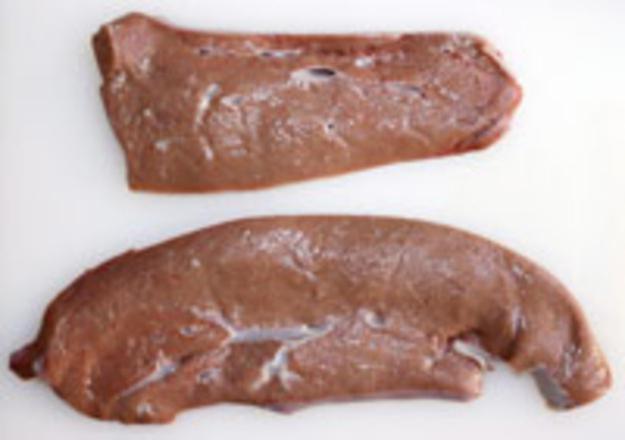 Pour flour, pepper and salt. Stir again. We form several, usually 4-5, pancakes and bake at 180 degrees in the oven until cooked. Now prepare the sauce for lubrication. Add mustard to sour cream, garlic, crushing it, pepper, finely chopped greens and salt. Diligently mix and coat with the sauce the cooled cakes. We lay them on each other. At the same time, we also lubricate the top cake with greens and carrot flowers. Let it now stand in the room for an hour, and then put it in the fridge for at least two hours. Now you know how to make a liver pie.
Recipe number 2: chicken liver pie
Such a liver is more nutritious than beef or pork, it is well and easily absorbed by the body. Useful, it contains vitamin A and a large amount of folic acid. The dish is prepared quickly and can be an ornament to any table. Ingredients: 0.7 kg of chicken liver, 100 ml of milk, four onions, two eggs, two carrots, 250 ml of mayonnaise, a glass of flour and vegetable oil.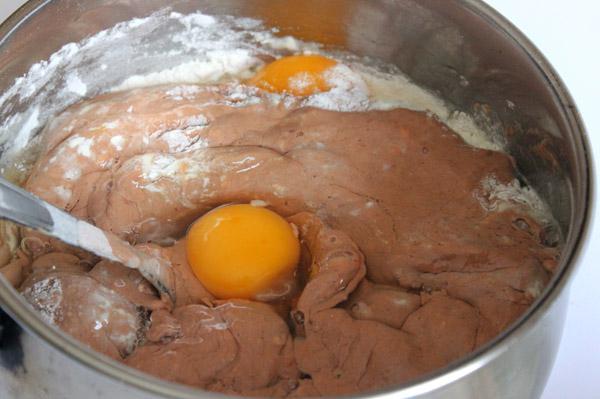 We suggest you to prepare such a liver pie together with us.Recipe with photos will help to do it correctly. We skip the chicken liver through a meat grinder, add milk and eggs, mix these ingredients. Add flour and mix again. Prepare the filling: fry the chopped onion with grated carrot, add mayonnaise and mix everything. At a temperature of 180 degrees fry pancakes in the oven. If they do not work, they are torn - we add flour. We spread on a dish, shifting at the same time with a paste from browned vegetables. We coat the side and top of the cake with mayonnaise, which will, among other things, also be a decoration.
Recipe number 3: omelette cake
Using the same products, change the cooking technology and get a completely different dish. We need: 0.5 kg of beef liver, one onion, four eggs, two tablespoons of flour, half a glass of milk, pepper, mayonnaise, salt. So, the liver pie recipe. Scroll through the liver in a meat grinder with onions, add flour, egg, pepper and salt. Pancakes are baked by analogy with previous recipes. But then - in a new way.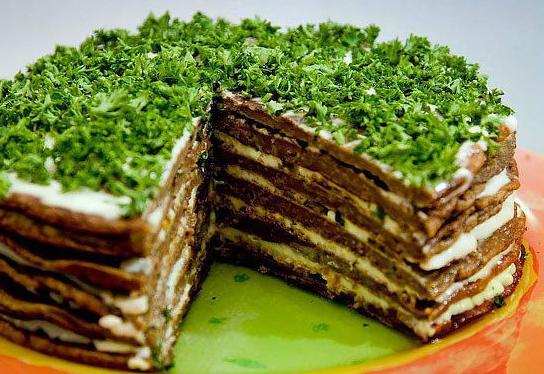 Beat with milk the three remaining eggs, just a little, at the tip of a knife, add some salt. We bake thin pancakes from this mixture. The quantity is one less than from the liver.We collect the cake, alternating pancakes and greasing them with mayonnaise. Exactly cut the edges of the resulting cake, finely chop the trim, mix with some mayonnaise and decorate the dish on top.
Recipe number 4: cake in a slow cooker
As you know, the liver is a very useful product for the human body, because only one portion of it will provide you with the daily intake of certain vitamins. The liver will strengthen the immune system, increase the hemoglobin content in the body. So it is really necessary to include dishes from it periodically in your diet. Therefore, we will continue to explore new recipes. Now it will be a liver cake in a slow cooker. For its preparation we need 40 minutes and the following ingredients: 0.5 kg of beef liver, three spoons of semolina, one onion, three spoons of refined sunflower oil, one carrot, three spoons of sour cream, three chicken eggs, a pinch of salt.
Cooking Cake
We begin to learn the recipe for liver cake in a slow cooker. Dice onions and cook for four to five minutes in a slow cooker in vegetable oil. In this case, set the mode "Baking". Add the carrots, grated on a grater, stirring, simmer another three minutes.We clean the liver of bile ducts and films, combine it with carrots and onions.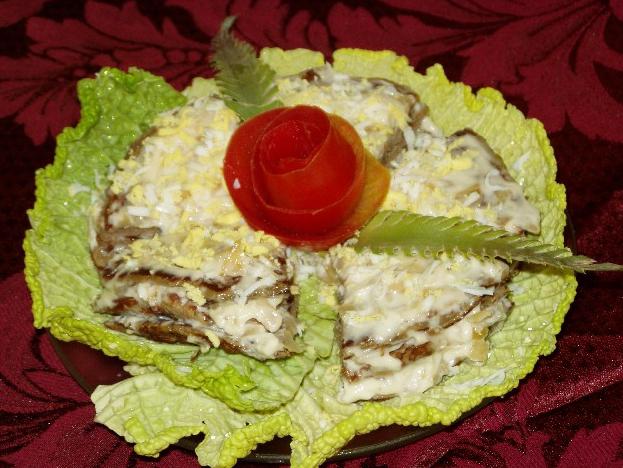 We grind all these components in a food processor, using a metal knife as a nozzle. Then add sour cream, salt, eggs, baking powder, semolina and grind again, this time one minute. The mixture, cooked in a food processor, lay out in the bowl of the slow cooker, after having smeared it. Set the mode "Baking" and time - 40 minutes. After a designated time, the beep will work, and our liver cake in the slow cooker will be ready. Bon Appetit!
Related news
Cooking delicacies: recipe for liver pie image, picture, imagery