Compressor inhaler "Dolphin": description and reviews
The Dolphin inhaler from the Italian company is very popular among consumers.Flaem Nuova. This is one of the latest models for the treatment of diseases of the upper respiratory tract.This device is reliable in operation, has an affordable price for everyone - 4.5-5 thousand rubles. He became the best inhaler of the new generation. Recommended for the prevention and treatment of patients in clinics, medical and preventive centers, specialized sanatoriums. Equipped with an extended set of accessories attached for children and adults. Convenient and practical, widely used at home.
What is a "Dolphin"
Delphinus F1000 is a new model of a famous Italian company. It has a convenient package and a set of different nozzles. The device itself is compact, it is easy to carry it by a special handle. Conveniently, it has a compartment for storing the cord and all attachments.The device is easy to use and very easy to assemble. It can be used with various medicines: antibiotics, herbal decoctions, antiseptics, mineral waters and even oil solutions. It is only necessary to ensure that there are no large particles, otherwise the sprayer may become clogged.
The package of the inhaler "Dolphin F1000" includes: a compressor, a nebulizer (upper and lower capacity), economizer Dyuza, mouthpiece, nozzles for the nose, masks (adult and children), manual, packaging. All masks and nozzles are made of high-strength medical PVC. In addition, the case is equipped with 4 soft legs, which gives it stability and does not scratch the surface. The device itself has a good slope, which allows people with disabilities to use it for inhalation, and the procedure can be carried out lying, sitting or standing. All accessories are easy to pack in a convenient plastic case. It does not need to buy additional accessories.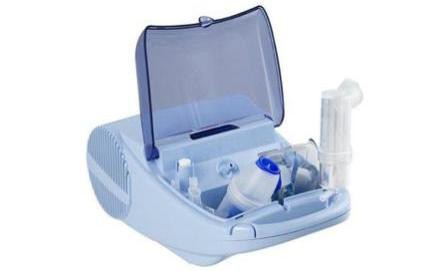 Purpose of the inhaler
Such devices are needed for the treatment and prevention of respiratory diseases. They are used in medical institutions as part of complex therapy, as well as at home.Be sure to inhaler "Dolphin" is to get those who suffer from bronchial asthma, tuberculosis, chronic obstructive pulmonary disease. Its use is also effective in such diseases as:
rhinitis;

tonsillitis;
sinusitis;
laryngitis;
tracheitis;
bronchitis.
The use of an inhaler for the prevention of complications after viral diseases or surgical interventions is shown.The device facilitates breathing, relieves puffiness, thins mucus and sputum, relieves asthma attacks.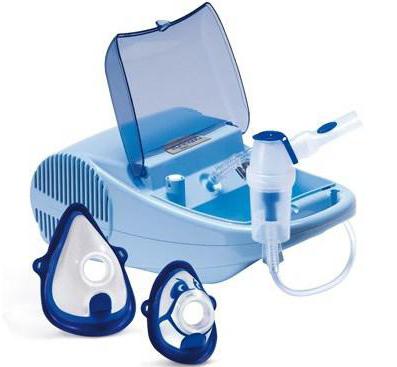 Specifications
The inhaler compressor "Dolphin" is designed for inhalation. By means of a special compressor, it converts liquid medicines into an aerosol with small particles. This suspension through the dispenser and the desired nozzle is delivered to the respiratory tract. The inhaler has a special valve that allows you to deliver the medicinal solution while inhaling and minimize its expiratory losses.
Inhaler "Dolphin" works on the network, consumes only 140 watts, but it is quite powerful. The air stream is sprayed at a rate of 10 l / min. Capacity for drugs has a volume of up to 8 ml.This device for home use is quite large and noisy. Its size is 27 by 22 cm, height is 11 cm. Weight is a little more than 2 kg, but it is quite easy to carry it due to the presence of a handle.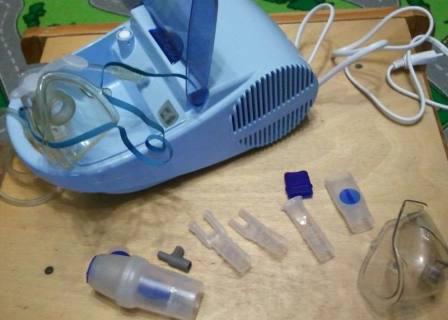 Why buy a Dolphin inhaler
Delphinus compared with previous models has a more powerful processor. It works in three modes and is very versatile.The relatively small size and weight of the device allow it to be used both permanently and on trips.
Inhaler "Dolphin" has many advantages over similar models:
It has three modes of operation, therefore it can be used for the treatment of diseases of both the upper respiratory tract and the lower;

it is universal, it can be used with water and alcohol solutions of drugs;

equipped with a special device that controls the cost-effective flow of the drug and reduces its loss during exhalation;

the power of the device is increased, the procedure can be carried out for an hour, then it automatically shuts down to prevent overheating;

can be used for the whole family, as the kit includes a set of nozzles for children and adults;

convenient and clear assembly of the device allows you to use it without problems.
Terms of use
It is necessary to assemble the Dolphin inhaler strictly when the network is disconnected. The assembly procedure is as follows: open the container for spraying the medicinal substance, after unscrewing the lid of the container counterclockwise. Fill the flask with the solution for inhalation in the right amount. The volume of this container is 7 ml, taking into account the fact that each division is 1 ml. Close the flask tightly and attach the inhalation tube to the fitting. If necessary, you can install an economizer, which will reduce the consumption of the drug substance.
Be sure to check the order of attachment of all parts according to the instructions attached to the inhaler "Dolphin".Delphinus F1000need to collect correctly. After the procedure, rinse all removable nozzles with running water and, if necessary, disinfect. Dry tips and use only when dry. Recommendedclean the air filter once every few months. It can be processeddetergent, then dry at room temperature for 2 hours.The filter must be kept dry when used.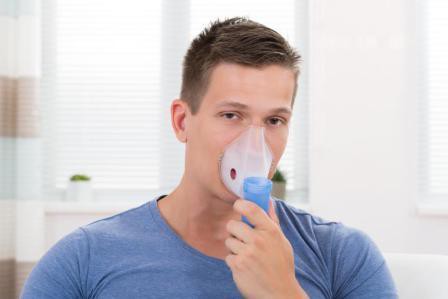 Application Reviews
This compressor inhaler has won a lot of positive feedback. It is very easy to use, it is powerful and functional. This device is especially praised by mothers whose children often suffer from respiratory diseases. After all, with such an inhaler, recovery is much faster, and there are no complications. A lot of positive feedback about this inhaler from patients with bronchial asthma. The device helps to avoid attacks and facilitates breathing.
Related news
Compressor inhaler Dolphin: description and reviews image, picture, imagery