Combined bathroom: design ideas
Almost all residents of high-rise buildings can not boast of the large size of the bathroom and bathroom. This gives a lot of inconvenience both in aesthetic and functional terms. The most common way to solve this problem is a combined bathroom. With this solution it is possible to increase the area of ​​the room several times. Also now, manufacturers have developed a series of plumbing, specifically designed for small spaces.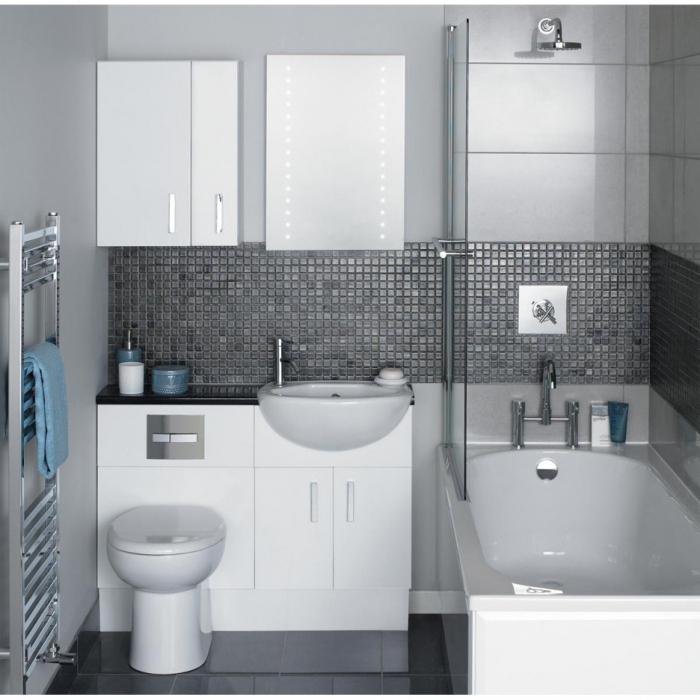 Combine the bathroom
So, it was decided to merge the two rooms. First you need to know about the properties of the partition. If she is a carrier, you will have to immediately forget about such an idea. This pier performs the main function, and during its demolition the building can simply collapse. If this is not your case, and the partition is simply a decorative element, then you can begin to embody the fantasy into reality.
The next point to pay attention to is the door.Their location may affect the layout of the joint room. Combined bathroom (the photo of the most successful options can be found in the article) will have only one door, so at the planning stage you need to decide which of the two is most conveniently located. If no option does not suit, then you need to cut through the new opening, and the old lay.
It should be noted that the most economical solution would be a typical layout. This is an easy way. All communications practically remain in place. The only thing that may be needed is to extend the pipes. The main elements (bathroom, sink, washing machine, toilet) are mounted along a long wall. As practice shows, sewage and water pipes are exactly that.
By organizing space, you can give preference to semicircular niches. With this solution, only the bathroom will win (photo).
The bathroom combined will become not only functional, but also original. Enhance this effect by installing a countertop with rounded corners, a bathroom of the same shape.
In order to maximize space saving in the room, preference should be given to a shower stall and hanging plumbing.For example, under such a sink you can install a washing machine disguised with a false panel.
Advantages and disadvantages
A bath with a combined bathroom has many advantages:
Increase the space that can be functionally used.
Hallway design will benefit from fewer doors.
Removing one wall, you can later save on its decoration.
Opens more opportunities for placement of plumbing.
The vacant space allows you to install additional lockers and racks.
On the increased area the humidity will significantly decrease.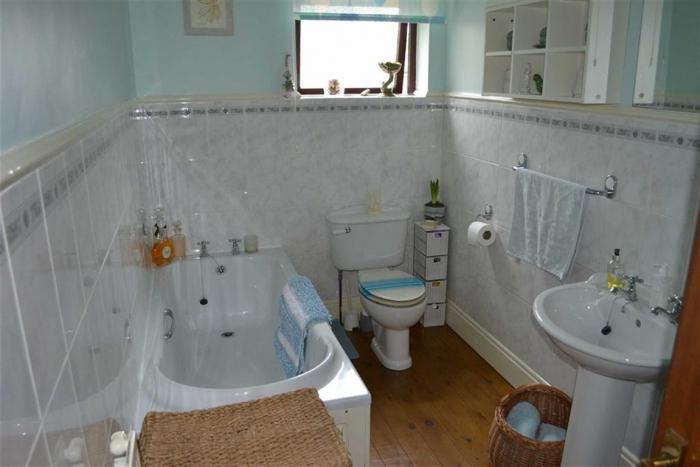 It is worth noting that this layout still has two drawbacks:
In large families, sometimes there are difficulties when tenants at the same time have a need to visit the combined bathroom with a bath.
It is not so easy to get permission to demolish the partition; you will have to run around several instances, and this will take a lot of time.
Combined Bathroom Color Solutions
The standard design of small rooms is the use of light shades. This results from the fact that they visually increase space, and also influence its illumination.There are several recommendations for choosing the optimal color scheme in the combined bathroom. We list them:
The number of colors and their shades should not be more than three, otherwise it threatens with congestion.
Bright and flashy tones are also not recommended as the dominant ones, with the help of them you can place accents.
When composing color compositions, it is necessary to check in advance the compatibility of all the shades used.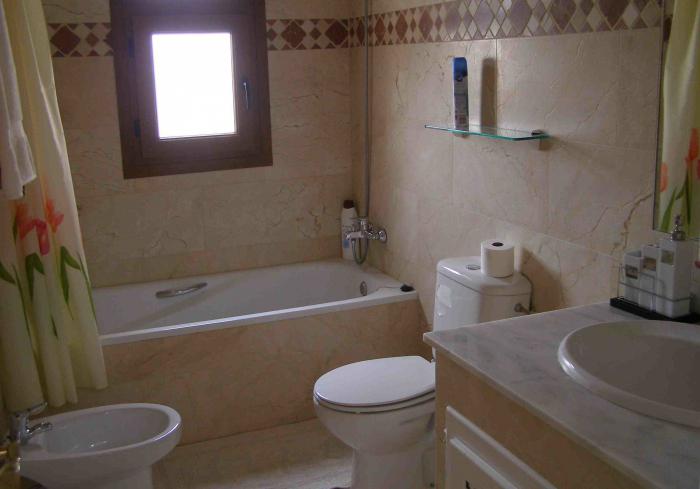 The most harmoniously for such a space would suit pastel shades: beige, light green, turquoise. They will fill the room with ease and tranquility, and it is this atmosphere that is necessary when taking water treatments. However, in order that the interior does not turn out too boring, you can add rich colors. It is necessary to use them extremely carefully, not over-spaced. Recently, the red and orange palette has become quite popular. Those who prefer such an exciting color, it is recommended to combine it with white or yellow, in order to balance the reproducible effect.
Selection of finishing materials: quality requirements
Repair of the combined bathroom is, of course, troublesome, but the end result will fully pay for all expended manpower and resources.However, in order for the room to retain its original appearance for a long time, it is necessary to choose the finishing materials correctly. There is a certain list of properties that they must comply with. Consider it in more detail:
The bathroom is a rather damp room, so the main criterion for selection is moisture resistance.
During the adoption of water procedures, washing, we constantly use various alkaline and acidic agents. And no matter how hard you try, you can't completely avoid spraying. Therefore, surface finish should have a high level of resistance to chemicals.
Combined bathroom must be kept clean. Choosing light-washable materials, we significantly simplify the task.
It is very important to completely prevent the proliferation of bacteria, such as mold, fungus, etc. They are not only able to spoil the appearance, but can cause serious diseases, therefore the materials used must be resistant to these formations.
Temperature fluctuations are a frequent occurrence in the bathroom, choosing a finish, this factor must be taken into account.
Decorating the walls
When choosing a bathroom design (combined bathroom), the main attention is paid to the walls. As you know, the most common finish - ceramic tiles. Its properties are ideal for such a specific room. Currently, this finishing material is represented by a wide range of colors, sizes and ornaments. Such a variety allows you to make the interior of the bathroom original and practical.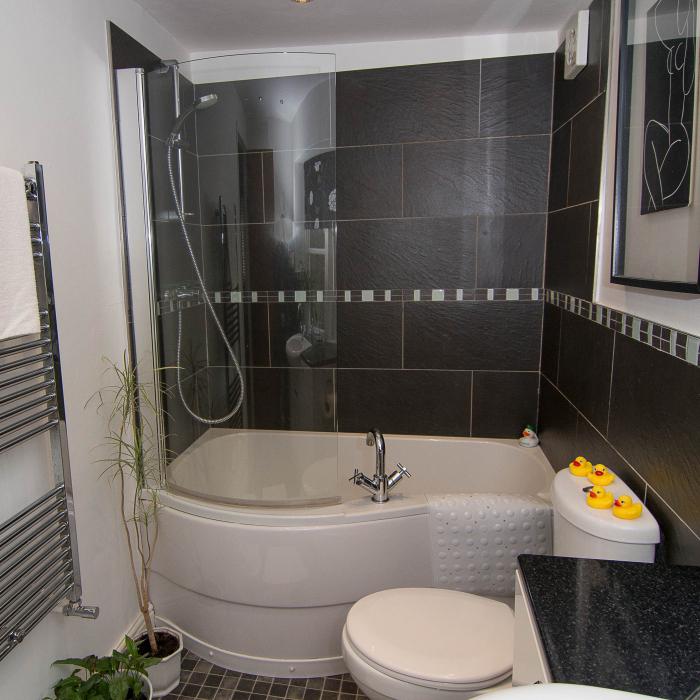 However, do not forget about other types. PVC panels are in second place. They are not inferior in quality to the first version. But their design decisions are somewhat smaller. Also the disadvantages include installation method. Their attachment takes place on profiles, and this takes precious centimeters.
Mosaic tiles are the original way to decorate walls. This material has all the necessary properties, while the abundance of various designs will satisfy the fantasies of the most demanding consumers.
A simple and economical way - painting. The only thing that in this variant will seem the most difficult is the preparation of surfaces. Putting walls is a long and laborious process.
Ceiling: design options
Equally important for the bathroom is the ceiling finish. Splashes of water and humidity in the room can ruin the coating. Also, do not exclude the fact of flooding by neighbors from the upper floors. As practice shows, this question is quite relevant. Therefore, it is recommended when choosing the design of a combined bathroom (see photo below) not to save on ceiling materials. The original option will be the use of mirror tiles. However, it is worth noting that you need to wash such a coating often enough, so you have to choose: beauty or practicality.
Universal way - installation of PVC panels. In such a coating, you can mount any lamps, a variety of colors will allow you to choose the most suitable option. There are no special requirements for care, just wipe them with a damp cloth.
Recently, suspended ceilings have become popular. This cover meets all requirements. First of all, it is able to withstand up to 100 liters of water, which will protect against undesirable consequences. Thanks to the reflective surface, the bathroom space will expand significantly.Stretch ceilings are not afraid of high humidity, temperature fluctuations, immune to fungal bacteria.
Floor requirements
Optimal flooring in the bathroom - tiles. However, this material forms a rather cold surface. If possible, it is better to install the so-called heated floors. This is the only disadvantage of this material, otherwise its properties fully meet the requirements.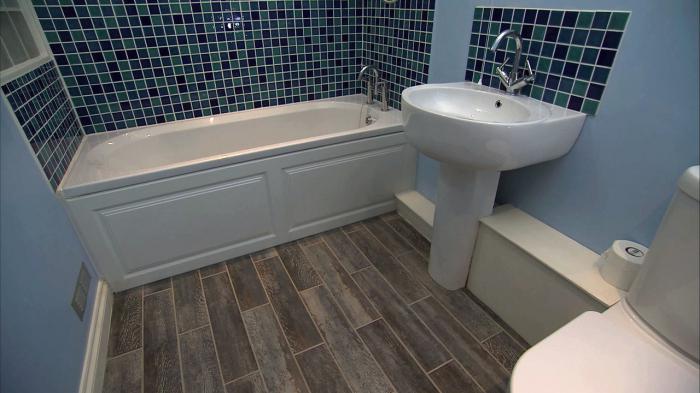 A relatively new type of finish - self-leveling floors. So far, their cost is very high due to the complexity of the installation process and the price of materials. But the end result is worth such an investment. Images on such floors are obtained in 3D-format, which makes the interior of the room original, and the size is much larger.
Choose a stylistic direction for the bathroom
The organic design of the combined bathroom (photo examples can be viewed in this article) is possible only with accurate reproduction of a certain interior style. Consider what are the most common ones:
Modern Main features: refinement of forms, smooth lines, unusual combinations.
Classicism.Strictness and grandeur - the main rule of such an interior, symmetry, orderliness and tightness of forms.
Minimalism. The design is predominantly solid with a discreet color scheme, a minimum of decorative elements.
Provence. Romantic, light and bright atmosphere in the bathroom. Antique furniture, many mirrors and lamps.
Design solutions for 5 square meters. m
These sizes of bathrooms allow you to roam the fantasy. Combined bathroom (photos of works by famous designers will serve as inspiration) can be easily issued independently. First you need to solve the issue with the bathroom. For maximum space saving, it is recommended to install an angular model or completely replace it with a shower stall. Furniture set is selected in a compact size and mainly suspended. The vacant space on the floor is used to install a dressing table and a washing machine. The toilet can be raised to the podium, with its help it will be possible to divide the room into zones. To create an atmosphere of privacy, you can install a decorative screen-partition.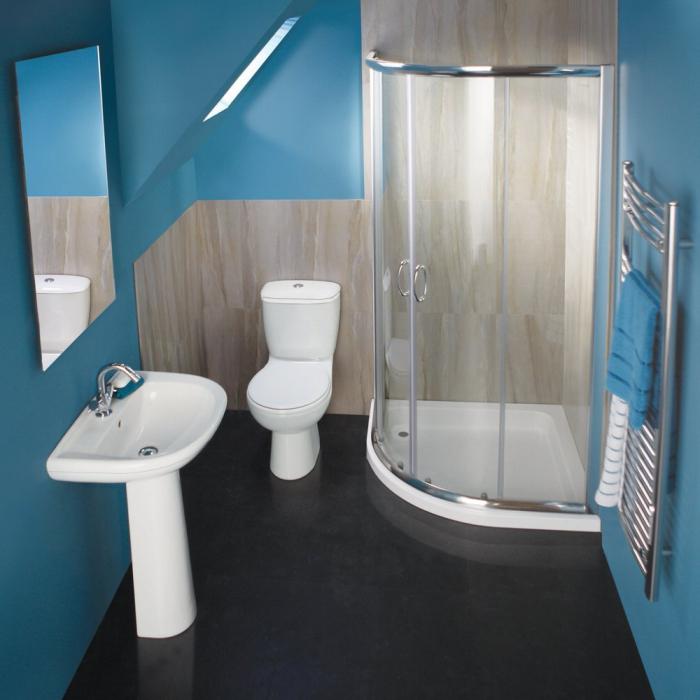 Bathroom 6 square. m
The design of the combined bathroom with such an area can be made truly royal. Here the jacuzzi fits perfectly. Opposite it, along the wall, you can install a variety of different cabinets, covering them with a solid top. Immediately you need to hang a large mirror, it will give depth to the space, and it will be quite convenient to use it. Do not forget about the lighting, both ceiling and wall. Mosaic will be suitable for wall decoration, as an option you can alternate it with ceramic tiles.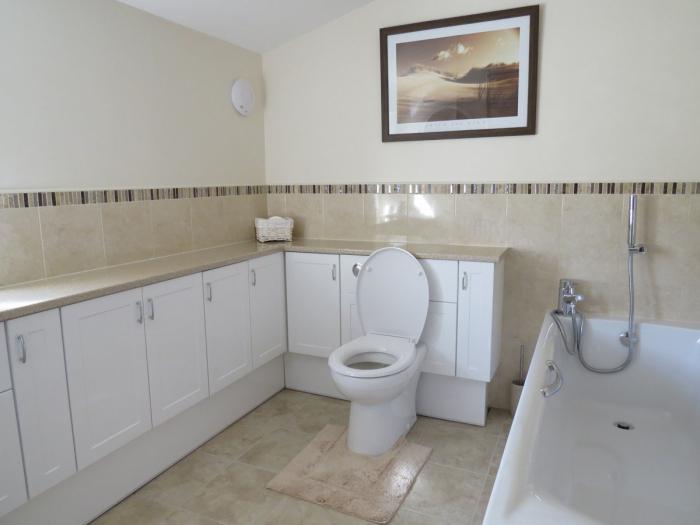 Combined bathroom zoning methods
After the partition is torn down, you need to think about how to divide the room into zones correctly. First of all, it is necessary to streamline the space. Common methods:
Color accents. Combined bathroom with bright patches softly divided into functional areas with a smooth transition.
Niche. In such recesses you can install a certain plumbing, for example, toilet, bathroom.
Partitions. If the size of the room allows, you can build a plasterboard partition of the original form by installing spotlights and shelves in the design.
Screen with frosted glass.Exquisite design and mobility are ideal for such a room.
Finally, a few recommendations
Too small bathrooms do not recommend using large tiles.
The common technique "top - light, bottom - dark" will visually lift the ceiling, and bring walls closer, which will lead to a visual reduction of space.
Decorating the walls by alternating bright and bright colors will significantly transform the design of the combined bathroom.
Mirrors in combination with glossy surfaces will make the room brighter and more spacious.
The shape and color of plumbing is selected based on the overall style.
Related news
Combined bathroom: design ideas image, picture, imagery