Buryat-Mongolian Wolfhound: breed description, characteristics and features
The Buryat-Mongol wolfhound is a dog, considered to be the national treasure of the Russian Federation. But despite this, you will rarely see him on city streets. Because many people confuse it with the Newfoundland or Caucasian Shepherd. In today's article we will tell a lot of interesting things about these animals.
Origin
This is quite an ancient breed, whose representatives from time immemorial lived side by side with people inhabiting the territories of Tibet, China, Siberia and Buryatia. Initially they were used as watchmen, hunters and guards of sheep and camels. It is also known that the Buryat-Mongol wolfhounds lived in Buddhist monasteries and were considered sacred.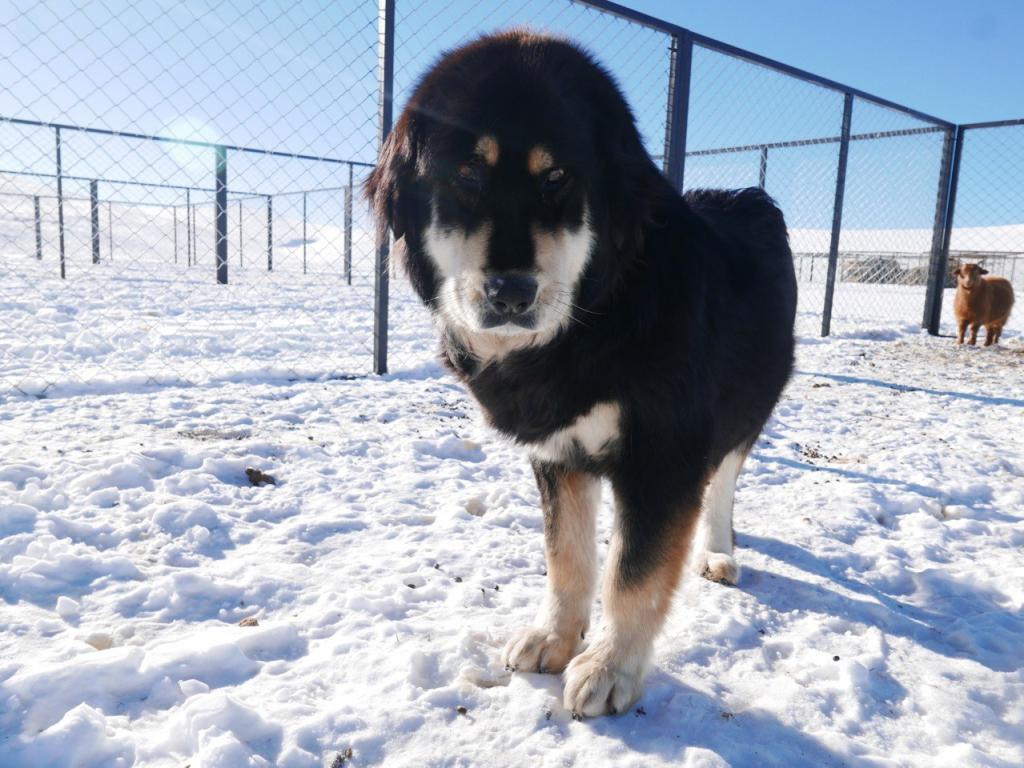 Despite the ancient origin and excellent working qualities, the breed was on the verge of extinction. Marika Teregulova and Nikolay Batov were closely involved in the restoration of the existing livestock. Thanks to the efforts of these people in the second half of the XX century, these animals were revived.The generally accepted breed standard was developed in the late 90s. Around the same period, the first nurseries professionally engaged in breeding hhotoshov appeared. And in 2000, they were registered in the Russian Tribal Book.
Purpose
Banhar, or the Buryat-Mongolian wolfhound - a breed of dog, has long been used to protect, but not the grazing of farm animals. Also hotosho successfully cope with the role of assistants to the hunt.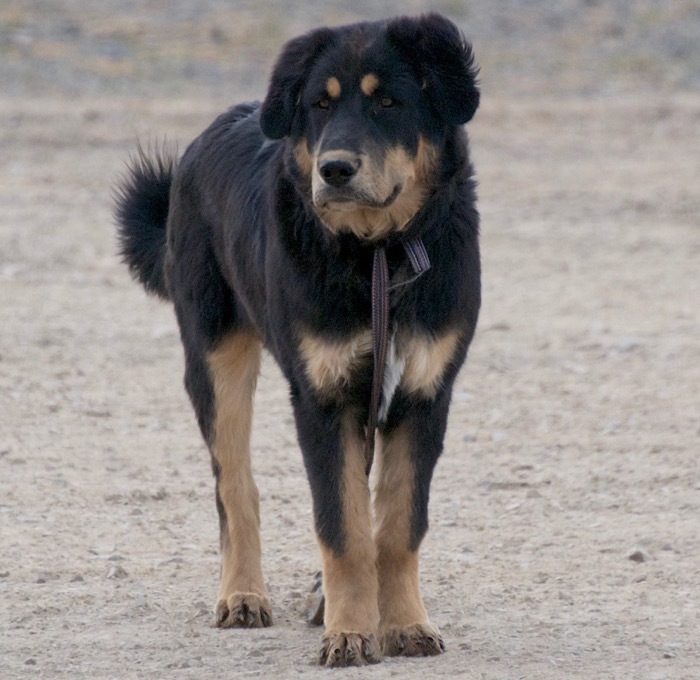 Not bad have established themselves wolfhounds as security guards of the property. They scare off potential intruders with one of their formidable views. It is unlikely that anyone would venture to get into the house, where the Banhar freely walks through the courtyard. In addition, many representatives of this breed are listed on the balance of a number of power structures and emergency services. There they are used to search for missing people. As for the usual dog owners, they give birth to hotetosho as companions and pets.
Description
The Buryat-Mongolian Wolfhound is a large dog with well-pronounced sexual dimorphism. The height of an adult male is not less than 74 cm.Bitch should not be below 66 cm at the withers. In this case, the weight of the dog ranges from 45-70 kg. On a proportional massive head with a well-developed occipital protuberance, pronounced brow archs and a volumetric muzzle, there are oval, widely set eyes and triangular drooping ears. The dog's strong jaws are hidden behind thick, tight-fitting lips.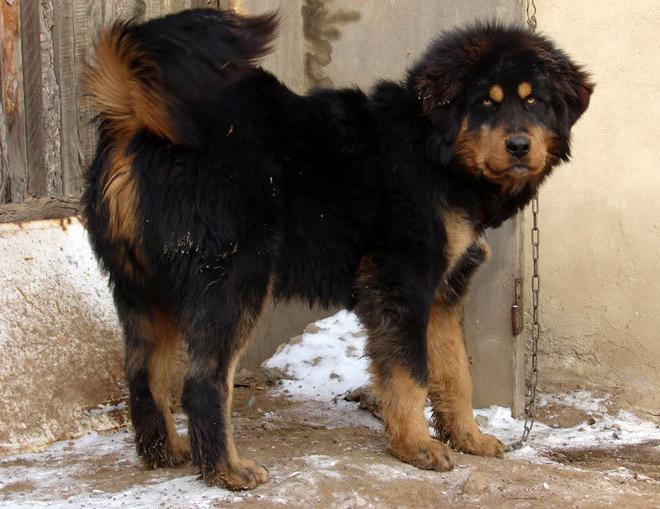 The moderately long neck of the Buryat-Mongolian wolfhound smoothly passes into a well-marked withers, wide straight back, bulging waist and slightly sloping croup, ending with the base of a high-set tail. Under the stretched body with rounded ribs and a tucked up abdomen are located straight, parallel to each other limbs with large arched legs.
Representatives of this breed are characterized by slow free movement. And their characteristic gait is considered to be a "creeping" lynx. The moving dog widely puts back paws, as if turning out tarsus.
Wool and color
The whole body of the Buryat-Mongolian wolfhound, the reviews of which sound in a positive manner, is covered with a coarse straight awn. Moreover, on the front surfaces of the limbs and on the head, the hair is very short and fits snugly to the body of the animal. Depending on the length of the spine, representatives of this breed can be divided into three groups. They are:
Longhair with a mane on the neck, feathering and pants on the backs of the legs.
Intermediate with a characteristic suspension on the tail and an awn about 10 cm.
Shorthair without a mane, feathering and pants. However, such individuals may have a light suspension on the tail.
As for color, the standard allows several options at once. It can be black, brown or zone-gray. Also allowed all shades of red, from copper-red to fawn. But most often there are black and tan individuals. The standard allowed the presence of small white spots on the chest, tip of the tail, front and rear limbs. Individuals of the black-spotted and spotted dogs, as well as animals with asymmetrically located markings, are excluded from breeding and participation in exhibitions.
Behavioral features
Dogs of the Buryat-Mongolian Wolfhound breed are distinguished by a strong, strong-willed disposition. They tend to cooperate with the person rather than obey him. They do not lose confidence in any life situations and are not inclined to fight with their fellows.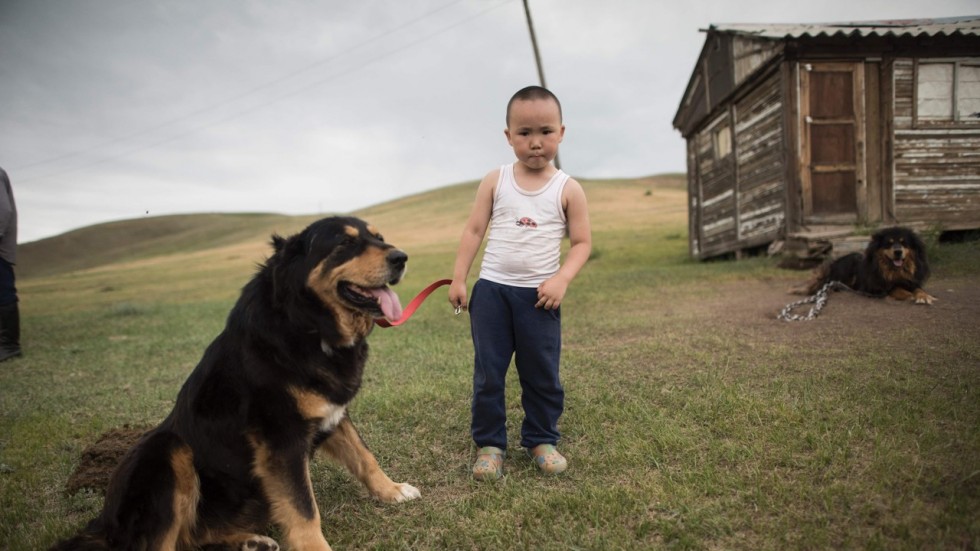 These are very alert dogs that are wary of strangers. Therefore, they make excellent guards and reliable bodyguards. Despite their high intelligence and easy learning, they tend to show excessive autonomy.They love water and love messing around with children. Serious temper and impressive size do not prevent them from coping with the role of the nurse for the master children. Hotosho very responsive to affection, but will never be imposed on the owner, seeing that he is not in the spirit. Banhars are very proud and do not tolerate unjust punishment. At the same time, they are unlikely to throw themselves at the owner, who undeservedly used a physical effect, but simply start ignoring him.
Maintenance and care
Buryat-Mongol wolfhound is not intended for life in urban environments. He will be comfortable in a country house with a spacious plot, surrounded by a reliable fence. In this case, the dog must be equipped with an indoor cage with a warm booth, protecting it from cold and damp.
Since the body of the dog is covered with thick hair, it must be periodically combed out, especially during the molting period. It is recommended to bathe the animal no more than twice a year. But with heavy pollution you can do it more often. For washing it is desirable to use special shampoos, sold in any pet store.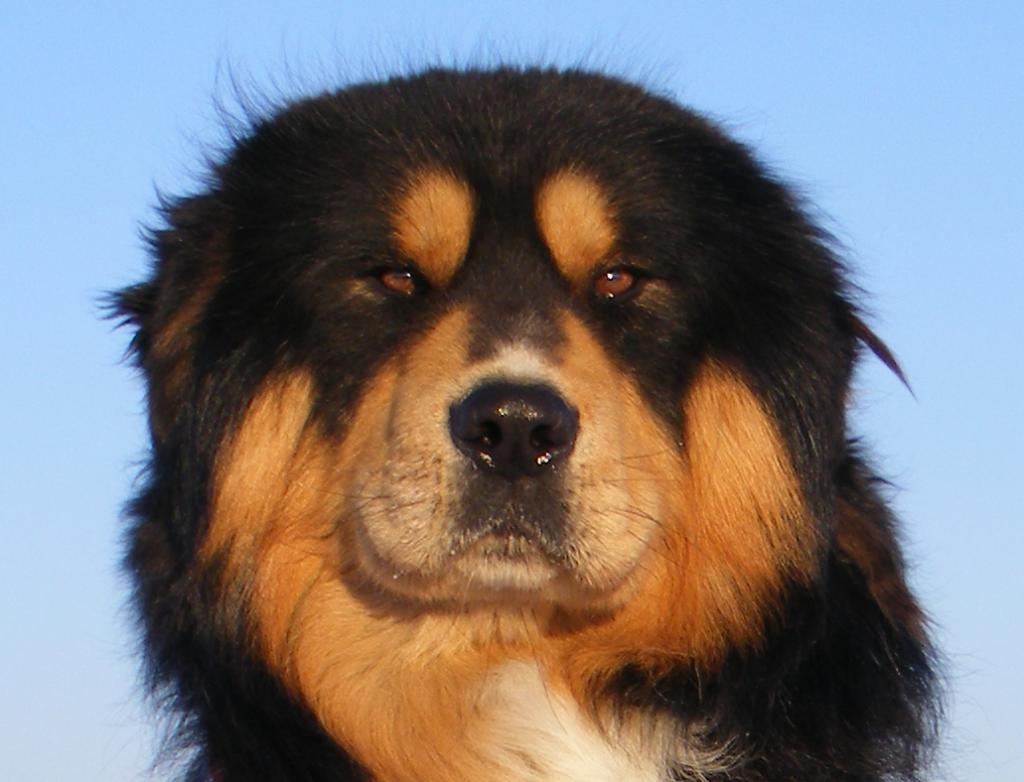 It is equally important to carry out timely processing from external and internal parasites.In addition, you must regularly trim the claws of his shaggy ward. Require special attention hanging ears of the animal. They must be constantly cleaned of dirt accumulated there. This simple procedure will prevent the development of infection.
Upbringing
Banhars are very intelligent animals that are relatively easy to learn. However, it is better to entrust their training to an experienced person who has the appropriate skills. A newcomer with a too soft character is unlikely to be able to cope with such an intelligent but capricious dog.
It is necessary to start raising a puppy of a Mongolian wolfhound (hotosho) puppy from the first days of his stay in your home. As soon as the dog gets used to the new place and gets used to its name, it can be gradually accustomed to a collar and other ammunition. Since the adult banhar has an impressive size and considerable weight, it is almost impossible to keep it on a leash. Therefore, by the age of one year old, he should know at least basic commands, like "Ko me", "Near", "Place" and "Fu".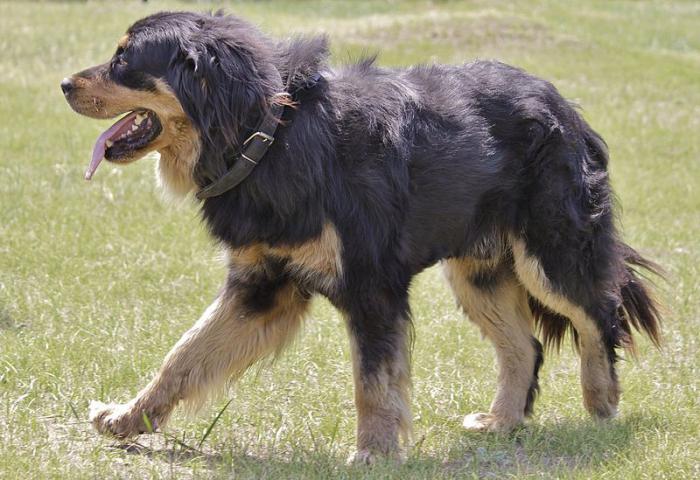 In order for the learning process to move faster, it is important that it be consistent and systematic.From an early age do not allow a puppy that you do not plan to allow an adult dog. It is also necessary to acquaint the little khototosho with other dogs and more often bring him to walk to new places. Due to this, he will get used to various stimuli and stop reacting violently to them.
Predisposition to diseases
Banhars are strong enough dogs, endowed not only with memorable appearance, but also with excellent health. They are practically not susceptible to hereditary diseases, but in order to maintain what nature gave them, they need to ensure adequate physical exertion. Under favorable conditions, the life expectancy of such dogs is about 13-15 years.
Since the hotosho are large in size, you need to monitor their weight. Overfeeding can adversely affect the condition of the dog joints and cause dysplasia. This disease is practically not amenable to medical treatment. Medications only help alleviate the condition of the animal and slow the further development of the disease. In severe cases, veterinarians recommend surgery, allowing artificially restore damaged joints.
In addition, wolfhounds can become ill with parainfluenza, plague, leptospirosis, adenovirosis, parvo-or coronavirus enteritis. To prevent all these ailments, you should regularly vaccinate your pet. And two weeks before the planned vaccination, it is important to give him antihelminthic drugs.
Feeding recommendations
In order for a beautiful and healthy dog ​​to grow from a small puppy of a Mongolian wolfhound to the Buryat-Mongolian wolfdog, he needs to provide not only decent conditions of detention, but also a properly balanced diet. The feeding schedule depends on the age of the dog. If an adult banhar can be content with two meals, then the puppy should be eaten from three to six times a day.
As for the ration itself, it can consist of both dry food and natural products. In the first case, it is important to give preference to proven trademarks that do not contain artificial preservatives, wheat and corn.
Judging by the reviews of the owners, the Buryat-Mongolian wolfhound can be fed with natural food. It is important to remember that the basis of such a diet should be meat.In addition, the dog's menu should include rice, buckwheat, eggs, offal, vegetables, lean fish, cottage cheese, yogurt and kefir. A couple of times a year, the dog is recommended to give special vitamin and mineral complexes to compensate for the deficiency of beneficial substances. It is strictly forbidden to treat banhara with chocolate, muffin, smoked meats and pickles. You can not give him river fish, tubular bones, legumes, potatoes, onions, spicy, pickled and fried foods.
Recommendations for selection
If you thought about everything well and decided that a Banhar is exactly the dog you dreamed of, contact a professional breeder or a specialized Buryat-Mongolian wolfhound kennel. Since this is the only way you will receive guarantees of the breed of the puppy you bought and you can be sure of the authenticity of all the documents attached to it. Usually, at the time of purchase, a small hothouse already has a metric confirming its origin, and a veterinary passport with vaccination marks.
The puppy itself must be completely healthy, with beautiful hair. It is important that he did not have signs of rickets and other diseases.Health status can be judged by the purity of the eyes and ears, as well as by the soft tummy. A solid, swollen tum is often a sign of a strong worm infestation and other serious ailments.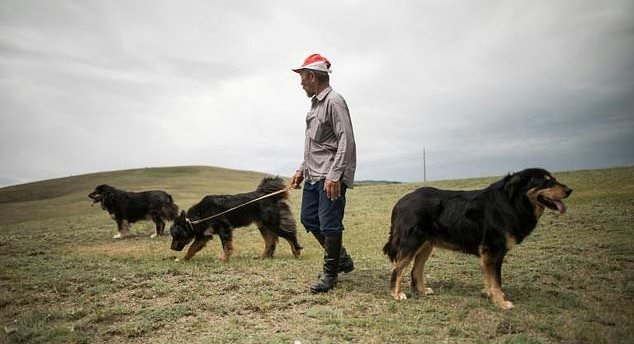 It is equally important to pay attention to the behavior of the puppy you like. He must be active, curious, cheerful and playful. You should not get a dog, showing obvious signs of cowardice or aggression.
Reviews about the Mongolian Buryat wolfhounds
Hotosho - amazing dogs that cause a real delight among lovers of this breed. According to people who contain such dogs, they are endowed with an excellent character and excellent working qualities. At the same time, they are distinguished by good health and do not require complex care or specific nutrition.
Related news
Buryat-Mongolian Wolfhound: breed description, characteristics and features image, picture, imagery