Arabic makeup as a way to emphasize its attractiveness and sexuality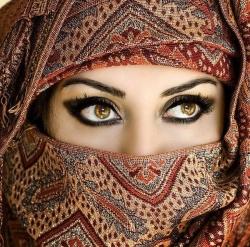 The East has always attracted its secrets, luxury, unusual traditions and, of course, oriental beauties. Probably, there is no woman who would not even dream of becoming a real princess of the Arab sheikh for a day. And it is quite possible, you only need to master the traditional Arabic makeup - and you will discover the secrets of the attractiveness and sexuality of women in Eastern countries.
Feature makeup in the style of the East
All the inhabitants of the Arab countries are faithful to the traditions that do not allow a woman to open her face to people. The eyes are the only part of the face that is visible to everyone, which is why Arabic makeup focuses on this part of the face. Today, this technique of applying decorative cosmetics is somewhat Europeanized, but the basic principles and secrets remain the same:
Flawless, clear brow line.
Obligatory attribute becomes eyeliner exclusively black.
Shadows of bright, saturated shades: lilac, pink, purple, gold, terracotta and so on. Pearl eye shadows with shine are also allowed.
Very often, rhinestones and sparkles can be used as an additional decoration, both on the eyelids and on the eyelashes.
For make-up lips are used delicate, pastel shades to make them more attractive and sensual, but not distract attention.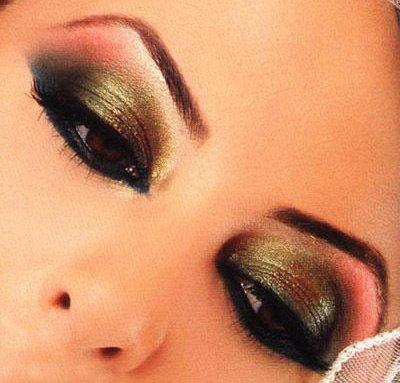 It is believed that Arabian makeup is especially suitable for brown eyes or witch greens, but this does not mean that blue-eyed beauties cannot afford it. The main thing - to choose the right color palette of shadows.
Arabic makeup - application technique
In order to achieve a perfectly bright and expressive eyes, you should observe the following rules and principles of applying makeup in oriental style:
Like any other, Arabian eye makeup requires exceptional tone and complexion. Therefore, use corrective tones to even out the skin and create a suitable foundation.
The second step - applying blush.With the help of them you will slightly correct your face contours. It is better to use colors close to natural - beige, golden, peach. Remember that Arabic makeup does not accept bright cheeks.
Eyebrows will require special attention. Their shape should be perfect and clear so that you really look like an oriental beauty. The growth line can be slightly extended with a special pencil or eyebrow shadows.
The most important step is the application of shadows. Before you begin this process, prepare the skin of the eyelid with a special base or tonal tool. This will allow the shadows to fall more densely and stay as long as possible. The minimum number of shades you should use is 2; there is practically no maximum, but be careful not to overdo it.
Arrows - without this element, Arabic makeup is simply impossible. For their drawing you can use a pencil or a liquid eyeliner. The latter will give you a clearer line, but will require some skill. Using arrows, give your eyes an almond shape: slightly lift the line up at the outer corners of the eyes andlower down at the inner.
Mascara should be of high quality, in the first place, and go straight, without lumps. It should be applied in two layers on the eyelashes of the upper eyelid and in a single layer when it comes to the lower eyelashes.
To make up your lips, use natural shades of lipstick or dull pearlescent.
Finally
In order to Arabic makeup did not play a cruel joke with you and did not become vulgar, follow all the rules and principles listed above. Do not be discouraged if for the first time you will not succeed, it is worth practicing in this matter - and then you can become a real beauty of the East.
Related news
Arabic makeup as a way to emphasize its attractiveness and sexuality image, picture, imagery